| | |
| --- | --- |
| 2022-02-09 | |
Calderdale Lunds Supreme in Skipton Prime Lambs Show
The Calderdale-based Lund family, from Walshaw Farm, Walshaw, Hebden Bridge, clinched a championship and reserve championship double with a brace of home-bred Beltex-cross pens of five at Skipton Auction Mart's February prime lambs show and sale (Mon, Feb 7)
The three quarters-bred lambs were primarily by tups from fellow Calderdale sheep breeders Andrew Leach and Jon Midgley, with the 45kg victors heading the day's per head and by-weight prices at £190 each, or 422.5p/kg, the 53kg reserve champions selling at £182, or 343.5p/kg, both claimed by show judge Anthony Swales, a regular buyer for Knavesmire Butchers in York. The Lunds – dad Brian, son Richard and 16-year-old granddaughter Chrissie – consigned 27 Beltex-cross lambs in total, their run averaging £162 per head, of 350.6p/kg.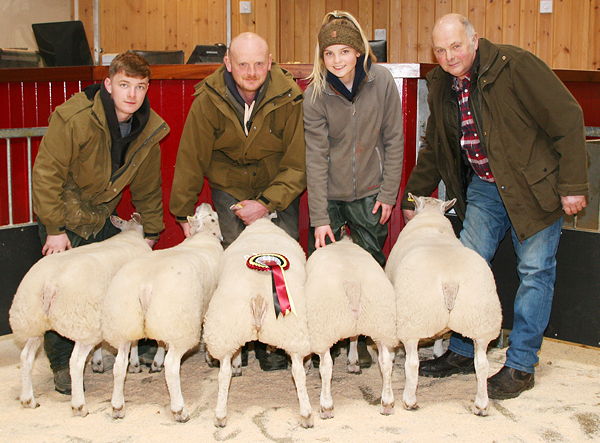 Brian Lund, right, joined by son Richard, granddaughter Chrissie and her boyfriend Sam Whiteley, left, with the February prime lamb champions
Mr Midgley, who runs his Upper Calder Valley Beltex flock at Dean House Farm, Luddendenfoot – he stood supreme champion for the second year running at the annual Christmas prime lambs showcase last November – himself finished third in the Continental show class, his 41kg lambs knocked down for £178, or 414.6p/kg, again to Knavesmire Butchers to make it a clean sweep of prize winners in the Continental show class. The Albermarle Road shop was again a multiple buyer, with a total haul of five pens comprising 17 lambs.
Norton Disney's Steve Dorey again travelled north from Lincolnshire to stand both first and second in the Masham/Mule show class, his 39kg Mashams selling at £106 to Hartwith's Nick Dalby, the 43kg runners-up, North of England Mules, doing better at £109.50 when going to Kevin Marshall in Dacre.
Mr Dorey also finished first in the Down-cross show class with 49kg Suffolks away at £126 to Felliscliffe's Andrew Atkinson, who also bought every single prize winner in the hill and horned lamb show classes. Finishing first and second in the former with 48kg Cheviots pens at £125 and £123 per head were Tony and Kay Kiernan, of St Michaels, while Jimmy Greenwood, of Addingham, won the horned class with Lonks making £115.
Over 3,000 prime hoggs were penned for sale, almost half of them scaling 46kg or more. With handyweights relatively scarce, all were a decent trade, especially well fed lightweights. Smart lambs of all weights generally sold very well, the handier 37-43kg weights seeing plenty of prices at 350-400p/kg, mediums 340-360p/kg and heavies 300-340p/kg, depending on quality. The overall selling average was £123.65 per head, or 271.6p/kg.
Also penned for sale were 500 cast ewes and rams. Heavy continental ewes sold to £215.50 from M Ryder & Sons in Harrogate, the section averaging £99.43, and with numbers beginning to dry up the mart says fed ewes of all weights and sizes will be required for the next few weeks. Cast rams averaged £114.12.
The sale featured a special charity element in memory of Mr Ali Shan, of Keighley-based Yorkshire Halal Meats, who died suddenly recently. He was a regular sheep buyer at Skipton and many other marts across the country. Generous vendors donated a total of 14 sheep, both hoggs and ewes, with equally generous purchasers seeing a fantastic sum of £5,800 raised for The British Heart Foundation. (Full details are in the market report at www.ccmauctions.com)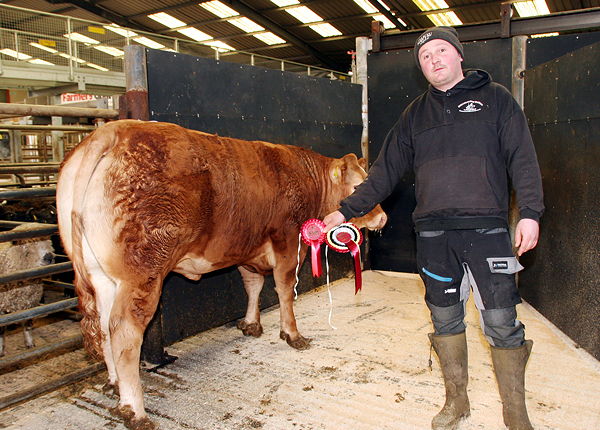 Paul Baines with the family's February prime cattle champion at Skipton
In the February prime cattle show, which attracted a high quality entry, including a good percentage of heavy premium cattle, the Baines family, from Gisburn, consigned another champion, the first prize heifer, a 550kg home-bred Limousin-cross by a well-utilised Haltcliffe bull. She sold at £1,829, or 332.5p/kg, to regular buyer James Robertshaw, of Robertshaw's Farm Shop in Thornton, Bradford, which accounted for five ranging from 297.5p/kg to 332.5p/kg.
The reserve champion, the first prize bullock, a 685kg pure-bred Limousin from Red Rose father and daughter finishers, Alistair and Ellie Hargreaves, of Walton Hall Farm, Walton-le-Dale, sold for the leading gross price of £1,983, or 289.5p/kg, to Ralph Pearson Wholesale Butchers in Bradford, which was again the volume buyer of the 27 under 30-month cattle penned for sale with 10 to average 640kg in weight.
Knavesmire Butchers was also in action in the prime cattle ring, claiming five high price entries, among them the leading lightweight steer, a 540kg British Blue from the Critchley family in Hutton at 307.5p/kg, or £1,661, a 570kg Limousin-cross steer at 323.5p/kg, or £1,844, from North Craven father and son, Francis and Andrew Smith, of Masongill, and a 510kg Blue-cross heifer from Clapham's Jonathan Townley at 327.5p/kg, or £1,670.
Retail butcher show judge Phil Gregory gathered three cattle for his family-run DA Gregory & Sons Butchers in Bacup, including a brace of Blue heifers, one weighing 560kg from Mr Townley at 325.5p/kg, or £1,822, another at 550kg from the Smiths at 319.5p/kg, or £1,757. Also represented among the purchasers were wholesalers J&E Medcalf, of Halifax, and the mart-based Barkers Yorkshire Butchers.