Nesbitt Indians Take Scalp at Christmas Craven Feather Auctions
2011-12-08
Teesside pedigree Texel sheep breeder David Nesbitt pulled off a coup in the poultry arena when exhibiting the champion pen of three Dark Indian Game birds at the annual Craven Feather Auctions Christmas show and sale at Skipton Auction Mart. (Sat, Dec 3)
Cock of the north. David Nesbitt, centre, with the Skipton champion trio of Dark Indian Game birds, assisted by show judge Bob Driver, left, and Skipton Auction Mart's Andrew Fisher.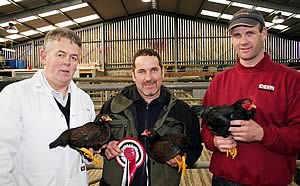 Mr Nesbitt, of Alwent Hall, Winston, Darlington, saw his first prize pen of bantams fly off with a second championship, as they had also won the best of breed title at this year's Yorkshire Game Show in Driffield. The trio – a cockerel and two point of lay pullets – sold for £40.

Top of the pecking order in terms of price at £195 was a trio of White Wyandottes shown by high-flying Blackburn 'birdman' Alan Barnes, of Cowden, Great Harwood, who has been breeding poultry for more than six decades and has secured countless successes on the national show circuit, as well as being in demand as an expert judge.

Mr Barnes is also renowned as a breeder of Blue Faced Leicester and Mule sheep, while his family business A & KM Barnes Gerengrocers in Clayton-le-Moors, run by his wife Katherine, last year celebrated its 50th anniversary.

It was the third year in succession that Mr Barnes has been responsible for the top price pen at the Skipton fixture – and by a considerable margin, as the second highest top price performers, the first prize pen of large fowl, a pair of point of lay Black Orpingtons from M Rangeley, of Slaithwaite, Huddersfield, sold for £76.

In the show class for waterfowl, the first prize pen, a pair of Cayuga ducks, was shown by Scottish breeder Mrs M Leggate, of Strathaven, South Lanarkshire.

Skipton regular Richard Pickles, of Lothersdale, was again among the honours when exhibiting the second prize large fowl pen, a pair of White Wyandottes that made £70. Mr Pickles also sold a second pen at £65.

The task of judging the 248 show pens of poultry and waterfowl fell to Bob Driver, of Sawood, Oxenhope, a rare breeds specialist who shows Old English Pheasant Fowl, Vorwerks and Marsh Daisies. He is a member of the Rare Poultry Society and a founder member and committee member of Craven Poultry Keepers' Club.

Also on the Skipton agenda was the annual festive show and sale of Border Fine Art, Beswick, ornaments and gifts, when the top performer at £720 was a Beswick figure of a 1984 Aberdeen Angus bull.

North Craven Coups at Skipton


Skipton Christmas Prime Shows Prove Real Crackers


Jennings Milk Men Shine at Craven Christmas Dairy Auction