Skipton Christmas Prime Shows Prove Real Crackers
2011-11-30
Skipton Auction Mart's fourth annual Lingfield Christmas primestock shows and sales produced an outstanding, high quality entry and exceptional trading levels, with an all-time record price for the supreme champion prime lambs. (Sunday, November 27)
John Mellin and Clare Cropper with their 2011 Skipton Christmas primestock supreme champion heifer.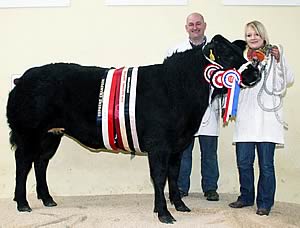 It was the climax of a year of solid fatstock trade and the annual highlight for both vendors and buyers, notably the region's leading butchers, who again attended the fixture in large numbers as they sought to source the best local prime beef, lamb and pork for their customers' Christmas tables.

In the butchers' cattle classes, the supreme championship fell to a 16-month-old British Blue-cross heifer, first prize winner in the young handlers class and female champion, from Christmas show debutants Clare Cropper and John Mellin, of Mill House Farm, Long Preston.

Their 500kg title winner sold for £5.10 per kg, or £2,550, to James Robertshaw, of Keelham Farm Shop in Thornton, Bradford, multiple buyers of Skipton prime beef and lamb champions and prize winners.


Pictured with 2011 Skipton Christmas primestock supreme champion lambs are, from left, Robert Garth, Simon Garth and Kelly Armitage.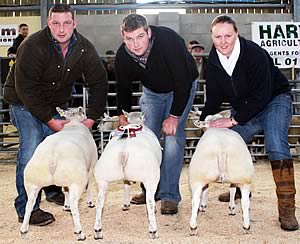 The supreme champion prime lambs came for the third time in four years from North Craven vendors James Garth & Son, of Birk Knott Farm, Keasden. Their Beltex-cross trio, also first prize Continental-cross trimmed lambs, 39kg or less, and lowland champions, sold for a mart record price of £690 to Dunbia Foods, Preston, through their regular ringside buyer Paul Watson, of Hellifield.

The champion trio of Piétrain-cross-Large White prime pigs was shown by Yorkshire Dales farmer James Middleton, of Amerdale House, Arncliffe. Representing his entire holding of porkers, they sold at 202p/kg, or £182 per head, to John Summers Family Butchers, of Druids Street, Clayton, Bradford, who last year bought both the Skipton beef champion and reserve.

John Mellin and Clare Cropper have had a tremendous year with their cattle on the regional show circuit, clinching a total of ten supreme championships, as well as presenting the champion Charolais heifer at this year's Countryside Live showpiece in Harrogate.

They picked up a further trophy for their first prize Limousin bullock, the best home-bred animal. It sold for £1,609, or 270.5p/kg, to James Dewhirst, buying on behalf on Stanforths Butchers, Skipton.

The couple also presented the second prize Limousin-cross heifer, which joined Red Rose butcher George Cropper at £1,617, 269.5p/kg, and will be sold though his shop in Accrington Market.

In addition, John and Clare were responsible for the first prize other Continental-cross steer, which became another Keelham Farm Shop acquisition at £1,422, 249.5p/kg, as did the second prize Limousin-cross steer from Joe and Trevor Stoney, of Pateley Bridge, at £1,345, 274.5p/kg.

Reserve champion in the beef section was the first prize British Blue-cross bullock and male champion from father and son Matt and Ben Townsend, of Barnside Hall Farm, Laneshawbridge.

It sold for £1,538, 287.5p/kg, to Preston-based Bowland Foods' buyer Geoff Nutter, on behalf of Stephen Hallsworth Butchers, Whalley, who also acquired the first prize Limousin-cross heifer and reserve female champion from TWH Farming, of Raven Farm, Stirling, for £1,519, 341.5p/kg.

Mr Townsend also presented the second prize and reserve male British Blue-cross steer, knocked down at £1,691, 270.5p/kg, to Andrew Atkinson, of Kettlesing, buying on behalf of T Thompson Wholesale Meat at Witton le Wear, Bishop Auckland.

TWH Farming were also responsible for the best home-bred animal, the third prize British Blue-cross heifer, a further acquisition at £1,427, 300.5p/kg, by Bowland Foods, on behalfRichard Cardwell, of R & J Cardwell Family Butchers, Hambleton, Garstang.

Other Bowland Foods prize-winning purchases on behalf of its Lancashire butcher customers included:

The second prize British Blue-cross heifer from Matt Townsend, Laneshawbridge, Colne, at £1,538, 268.5p/kg, for Andrew Walker Butchers in Burnley Market Hall.
The first prize Continental bull from Ian Moorhouse, of TB Moorhouse & Son, Dacre, Harrogate, at £1,247, 249.5p/k, for John Wilkinson Butchers in Ormskirk Market.
The third prize Limousin heifer from TWH Farming at £1,482, £274.5p/kg, for David Wearden, Quality Fresh Foods, Blackpool.

TWH Farming struck again with the first prize other Continental-cross Charolais heifer, sold at £1,183, 299.5p/kg, to co-judge Richard Binns for his Bingley Road butcher's shop.

Other prize-winning beef cattle, prices and buyers were: Continental bulls 3rd - H & F Eccles, Worsthorne, £1,012, 187.5p/kg, to Gerald Medcalf, Halifax. British Blue-cross bullock 3rd – Phil Summers, Clayton, Bradford, £1,522, 221.5p/kg, to brother John Summers Butchers, Clayton. Limousin-cross steer 3rd - Jimmy Baines, Trawden, £1,217, 253.5p, also to John Summers Butchers.

Cattle section judges were Harry Wood, of Bowland Foods, Preston, and Saltaire butcher Richard Binns.

Back in the prime lamb classes, the 2010 supreme champions Martin and Val Brown, of Beechwood House Farm, Newton-le-Willows, Bedale, this year had to settle for reserve championship honours with another Beltex-cross trio, the first prize Continental-cross trimmed lambs, 40kg or more, and reserve lowland champions.

They sold at £190 per head to section judge Paul Bartholomew, of Vivers Scotlamb, Annan, who also acquired the second prize class winners, again from the Garth farming family, at £148, along with the third prize pen from Richard Caton, of Stainforth, at £132 respectively. Vivers also paid the same price for Mr Caton's third prize trimmed lambs, 39kg or less.

Champions in the hill lamb classes were the first prize pen of three Mules shown by Martin Throup, who farms with his mother and father, Ken and Lynne Throup, and brother Simon, on Silsden Moor. They too caught the eye of the section judge, Chris Staines, of Welsh-based Vion Foods, at £101 per head.

Vion Foods bought multiple prize-winning prime lamb pens. They also acquired the second and third prize Mules from Joe and Nancy Throup, Draughton, and Roy Nelson, Bordley, at £99 and £83 respectively, along with all three Swaledale lamb class prize winners – Roy Nelson's victors at £90, the runners-up from John and Eileen Addyman, Skipton, at £82 and the third prize pen from Ellis Brothers, Addingham Moorside, for £77.

Yet further Vion acquisitions were the first prize Masham lambs from Kevin Wilson, Blubberhouses, Skipton, at £84, the second prize Dalesbreds from Joe and Tervor Stoney, Pateley Bridge, at £87, the first prize other horned or hill lambs from Jonathan Shorrock, Cliviger, Burnley, at £80, and the second prize Suffolk-cross lambs from Neil Tattersall, Ellerton, York, at £86.

Mr Tattersall was also responsible for the second prize Continental-cross untrimmed lambs, 39kg or less, which fell to Dunbia Foods, Preston, for £92.

Kevin Wilson also presented the second prize Mashams, knocked down at £99 to Gerald Medcalf, Halifax, along with the first and third prize Dalesbreds, which both fell to the aptly-named Dalesbred Butchers in High Bentham, Lancaster, at £105 and £94 respectively.

Vivers Scotlamb were in action again when buying all three principals in the Continental-cross untrimmed, 40kg or more lambs class – the victors from Martin and Val Brown at £140, the runners-up from Stephen Pepper, Oxenhope, at £130, and the third prize pen from Ellis Bros at £150.

Vivers also secured the first and third prize Continental-cross untrimmed, 39kg or less, lambs from Richard Caton, Stainforth, and Hayley Baines, Gisburn, for £135 and £110 respectively.

Butcher Richard Binns also bought the first and third prize winners in the Suffolk class from, respectively, Brian Lund, of Walshaw, Hebden Bridge, at £97 and William Preston, Silsden, at £102.

Second prize in the Continental-cross trimmed, 39kg or less, lambs class fell to David Findlay, of Coverdale, selling at £142 to John Whiteside Butchers in Colne.

Back with the pigs, the reserve championship was awarded to the first prize pen of 85kg or less pen from John Midgley, of Dean House Farm, Luddendenfoot, Halifax, selling at 120p/kg each to butcher judge Stephen Taylor, of W Taylor and Son, Bamber Bridge, who also bought the first prize trio of native-bred pigs from Calderdale breeders P Crook and Mrs P Stewart.

John Summers Butchers returned to the fray when paying 124p/kg for Mr Midgley's second prize 85kg or less pen, and 100p/kg for the third prize 85kg+ pen from Jonathan Shorrock, of Cliviger, Burnley.

Steeton butcher Richard Chamley made two prize-winning pens acquisitions - the second prize 85kg+ pen bred right on his doorstep by Trevor Booker in Silsden, at 90p/kg, and the third prize 85kg or less trio from Robert Garth and Kelly Armitage, Keasden, at 98p/kg.

A charity show and sale of fodder hay was again well supported, with judge Ken Flintoft, of Egton, awarding the title to the first prize bale of old season hay from Richard and James Stockdale, of Burnsall. The champion bale fell at a heady £100 to Chris Heseltine, of Hesketh Farm Park, Bolton Abbey. Sponsor was Windle Beech Winthrop, Skipton.

Other produce exhibitors and supporters of the charity auction, with proceeds in aid of Sue Ryder Manorlands Hospice at Oxenhope, Keighley, were R Close, J Asquith, A Asquith, C Nelson & Sons, Rosie Metcalfe, J Addyman, Hugh Briggs, Joe Coates, Craven Country Ride, T Wallbank, J Briggs, David Briggs and Jim Howarth.

Among a long list of Christmas primestock show sponsors were Farmers Guardian, Guy Machinery, Philip Bolland Trailer Training, Kingsway Veterinary Group, Robertshaw Myers Financial Solutions and NFU Mutual.

CCM chairman Anthony Hewetson, of Bell Busk, presented trophies to the supreme beef and lamb champions. He said: "Today represents the culmination and celebration of a fantastic fatstock year at Skipton, which has seen record numbers pass through the sales rings and record prices achieved."

He thanked all show sponsors throughout 2011 and auction mart management and staff for their efforts.

Jennings Milk Men Shine at Craven Christmas Dairy Auction


Skipton Christmas Rearing Calves Show & Sale


Westmoor Herd Retains Skipton Beef Shorthorn Title