Jennings Milk Men Shine at Craven Christmas Dairy Auction
2011-11-22
Three different dairy farmers named Jennings landed the lion's share of the honours at the Christmas Craven Dairy Auction at Skipton Auction Mart. (Mon, Nov 21)
Andrew Jennings, left, with his Christmas Craven Dairy Auction champion, joined by judge Aubrey Greenhalgh.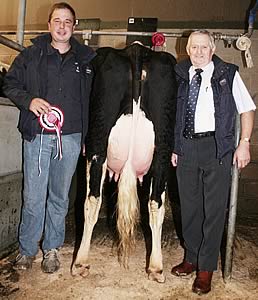 Andrew Jennings, of Fountains, Ripon, bagged the championship with a newly calven heifer, his cousin Robin Jennings, of South Stainley, exhibited the first prize newly calven cow, and Martin Jennings, of Cowling, landed a clean sweep of the prizes in the show class for maiden heifers.

Andrew Jennings, who trades as Jennings Farmers, won the title with a Holstein Friesian heifer that had calved 24 days before the show and was giving a daily milk yield of 41 litres. By the renowned Semex sire Gillette Final Cut, out of a dam bought at Skipton two years earlier, the victor sold for £2,080 to Ian Dodson, of Soyland, Sowerby Bridge.

The first prize cow from Robin Jennings also came to market giving 41 litres, having calved 30 days earlier. By another Semex sire Ladino Park Talent, out of a home-bred dam, she sold for £1,720 to Alan Outram, of Bury.

Martin Jennings' maiden heifers were by his stock bull Aireburn Forte, a Cogent Jack son bred locally by Brian Moorhouse at Bell Busk. Class entrants sold to a high of £840, with 21-month-old maidens averaging £768 and 6-12 months £626.

Judge Aubrey Greenhalgh, of Preston, nominated the second prize newly calven heifer as reserve champion. It was shown by a first-time Craven Dairy Auction exhibitor from Cumbria, Jeff Burrow, of Thursgill, Grayrigg, Kendal.

Giving 28kg after calving ten days earlier, the daughter of the Cogent sire, Loader, sold for £2,060 to Shaun Sowray, of Bishop Thornton.

The same buyer also paid top price in show at £2,180 for a newly calven heifer from John Airey at Elslack, along with the top-priced newly calven cow at £2,080 from Tony Swires, of Stainburn, Otley. The same exhibitor also sold newly calven cows at £2,010 and £2,000.

With 58 dairy cattle forward, a quarter of which realised £2000 or more, newly calven cows averaged £1,799 and newly calven cows £1,788. The fixture was sponsored by BOCM Pauls and P V Dobson & Sons. Trophies were presented by Craven Cattle Marts chairman Anthony Hewetson.

Skipton Christmas Rearing Calves Show & Sale


Westmoor Herd Retains Skipton Beef Shorthorn Title


Fieldens Clinch Skipton Prime Lamb Title