British Texel Breeding Has Worldwide Appeal
2011-12-07
British Texel genetics have been in demand worldwide in recent weeks, with sales in both Switzerland and Brazil confirming the demand for top quality British Texel breeding.
Heinz Pluss and his winning sheep at the annual Suisse Tier show in Lucerne.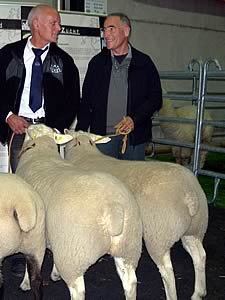 Further international success for the breed came recently in Switzerland at the annual Suisse Tier show in Lucerne. Swiss breeder Heinz Pluss was invited to exhibit his British bred Texels at the event and won the show's interbreed award with a Clydeside Oscar-sired shearling ewe which had been imported from the Procters Flock.
Mr Pluss regularly in 2010 and 2010, buying sheep from the Glenway flock in Northumberland and from three north west England flocks, Hullhouse, Procters and Beautry. The win at Swiss Tier was an incredible success for the breed, as historically it has been traditional Swiss sheep which have won the top title. This was a first for an imported breed.
Demand from Switzerland for British Texels has been growing in recent years and following a recent visit to the Suisse National Texel Show and Sale, at Hutwill, Zurich there has been increased interest, with further exports likely in the New Year, said British Texel Sheep Society chief executive John Yates.
"Prices at the Hutwill sale were strong, with a separate sale of 10 British Texel shearling ewes and rams hitting a top price of £1100. The British type of Texel is clearly in demand from both Swiss breeders and was widely admired by German and Austrian breeders who also attended the event. John added "that the Swiss and German breeders have been overwhelmed by the growth, weight and conformation that the British Texel can deliver, which collectively out performs other types of Texel that have been available to them. Seldom can one breed deliver all attributes as well as maintain leanness of carcase".
"These exports will be joined in mainland Europe by a consignment of rams which will head to the SIA Show in Paris in February and £25,000 worth of semen which is also destined for France along with a number of live rams for breeders' use too."
Meanwhile a recent sale in Brazil saw a top price of £20,000 paid for a Texel ewe, with a sale of 40 ewes grossing £120,000. Such has been the influence of British genetics in recent years in Brazil that a further export of semen will be heading to the country in January 2012.
The quality of British Texel genetics is widely regarded in Brazil and demand is increasing as more Brazilian sheep producers recognise the exceptional growth and carcass traits offered by the breed, said Mr Yates.
It's all good news for British breeders and is clear recognition of the exceptional work they've done in developing the breed since its first importation into Britain more than 35 years ago, he added.
"We've worked hard in recent years to ensure the world knows about the quality of the British Texel and the demand for British genetics is now being seen across the globe. The Texel breed's strength in depth in the UK and the variety or phenotypes on offer here means we have something to suit every market and are well placed to serve export markets in the future."

Deveronvale Perfection Progeny for Sale at Baileys Texel Event


Cairness Suffolk Flock Sells to 8,500gns


Baileys Suffolk Flock Production Sale