Deveronvale Perfection Progeny for Sale at Baileys Texel Event
2011-11-29
The world's 230,000gns record priced tup, Deveronvale Perfection, is one of the service sires of the Baileys shearling ewes included in the catalogue for this week's Texel sale at Blessington Mart.
The world record 230,000gns Texel ram Deveronvale Perfection, is one of the service sires of the Baileys shearling ewes which will comer under the hammer at Blessington on Saturday, Dec 3.
Picture: Catherine MacGregor.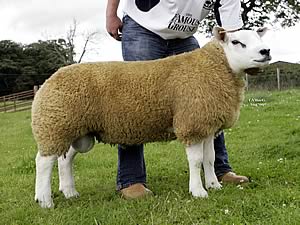 The auction takes place at the County Wicklow saleyard on Saturday, December 3, commencing at 1.00pm.
The sale catalogue features 76 shearling ewes (all scanned in-lamb) from the noted Annakisha, Baileys, Ballybrooney, Cheesy, Foundry and Greenhill flocks.
The Baileys flock was founded in 2003 and has achieved many notable successes in recent years. Ellen Bailey's entry comprises of 12 shearling ewes, all of which are on the Heptavac P system, and have been vaccinated with Toxovax and Enzovax.
Sires such as Blackstown Monty, Cairness Private, Forkins O'Driscoll, and Teiglum Magnium – which has produced rams to 40,000gns, are behind the breeding of the February 2010 born shearling ewes.
The majority of the Baileys offering are in-lamb to the 230,000gns Deveronvale Perfection – champion at Lanark in August 2009. Believed to be the world's most expensive sheep of all-time, he has already produced lambs to a top of 30,000gns.
Another service sire is Tophill Knockout , who has produced females to a top of 24,000gns – realised at last year's Christmas Cracker Texel sale in Carlisle. Several others are in-lamb to rams such as Cairness Private, and the Deveronvale Perfection son, Cairness Rivaldo.
Some of the highlights of the Baileys offering include (lot 27) a Teiglum Magnium daughter bred from a dam by Mainview Lionheart – sire of the 18,000 Euro Baileys Moneymaker and the 38,000 Euro Baileys Mega. Another (lot 28) is a Forkins O'Driscoll daughter out of a Blackstown Monty ewe which was national champion in 2005.
Also on offer is a Teiglum Magnium daughter (lot 67) out of a Forkins Nijinsky ewe which is a half sister to Baileys Mega and Baileys Moneymaker. Rounding off the Baileys entry is a Cairness Private shearling ewe (lot 69) which is bred from the Craighead Hercules daughter MSK 02066 – dam of Baileys Mega and Baileys Moneymaker.

Cairness Suffolk Flock Sells to 8,500gns


Baileys Suffolk Flock Production Sale


Beltex and Dunbia Lamb Export Scheme Launched