Case Maxxum EP – Powerful, Versatile and Cost-Effective
2011-12-15
The new Case IH Maxxum EfficientPower series, comprises six new four-and six-cylinder 110-140 hp tractors, made its European show debut at Agritechnica 2011.
Case IH Maxxum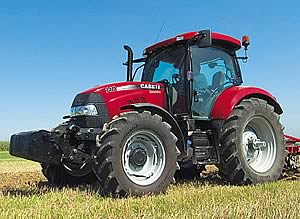 The Maxxum EfficientPower range replaces the previous Maxxum line-up, which became one of the most successful all-round tractor series in Europe, appreciated by farmers for its reliability and suitability for a wide range of applications. It has now been significantly upgraded to create the new Maxxum EP range, characterised by the latest engine technology, efficient exhaust gas cleaning system and improved operation.
Maxxum EP tractors set new cost-effectiveness and efficiency standards, with best-in-class cab size, comfort and technical highlights.
Two equipment versions …
The new Maxxum models are available in two series that are differentiated mainly by their control concepts. The upper range is the Maxxum Multicontroller EP line, featuring the innovative Multicontroller operating system as standard.
... and the most modern engines
All Maxxum EP and Maxxum Multicontroller EP tractors are powered by rugged turbocharged and intercooled four-cylinder (4.5 litre) and six-cylinder (6.7 litre) engines, all with electronic common-rail injection. The engines deliver ten per cent more power at a reduced engine speed of 1900 rpm, resulting in noticeably lower fuel consumption in the field. In addition, they are also fitted with a new precision fuel injection system.
The EfficientPower system now features on Maxxum tractors for the first time. All engines in the new series are equipped with a Case IH-built SCR system which optimises the engine power curve and ensures that these tractors comply with Stage 3B (Tier 4 interim) emissions legislation. Experience in the field shows that the system results in fuel savings of up to 12 per cent.
This is possible because the engines are precisely tuned for the highest performance, and the use of SCR technology requires no efficiency compromises. Not recycling exhaust gas through the engine increases durability and extends maintenance intervals, while the use of AdBlue has proved to be very user-friendly in practice.
Optimising the Maxxum EP engines for efficiency means maximum torque is reached at just 1500 rpm engine speed, further reducing fuel consumption. Service intervals are just 600 hours.
Work more efficiently at constant engine speed
For the first time, the Maxxum features constant engine speed, with the fuel injection system adjusted to ensure the pre-selected engine speed is kept constant. This enables precise regulation of driving speed and PTO speed – ideal for spraying, muck-spreading and precision farming applications. Hills and difficult terrain no longer have an influence on the quantity of material applied.
Premiere – innovative idle speed management
A new idle speed management software function has been developed to further reduce fuel consumption and operating costs. If the driver has left the cab and no electronic hydraulic outlets are in use or the hitch is not being used, the engine automatically reduces idling speed from 850 to 650 rpm after 30 seconds of idling.
Sufficient power for all operating conditions
Maxxum EP tractors now feature an engine power management system that delivers up to 26hp extra power, available from the 13th gear upwards in transport mode. As a result, the Maxxum has power boost on-demand for all of the tractor's main applications: PTO and hydraulic work as well as transport.
Comfortable cab with best ratings
Another highlight of the Maxxum EP range is the Surround cab, which offers one of the most comfortable tractor workplaces on the market. The cab is the largest in its class, with an exceptional view from a total glass area of 5.78 square metres.
The ergonomic design ensures extremely efficient operation. In addition, the Maxxum has the quietest cab on the market at just 71 decibels. The four-pillar design and integrated roof window provide unobstructed visibility, giving the driver a 105 degree forward view, ideal for front loader work.
Intuitive control concept – like its bigger brothers
The new Maxxum Multicontroller EP models now benefit from the same proven control concept as larger Case IH tractors right up to 600hp. All the key switches and buttons are integrated, like the Multicontroller, into the right-hand armrest. The same armrest can also house the AFS Pro 300 or AFS Pro 700 touch-screen monitor, making the Maxxum ideal for precision farming applications.
All important data at a glance
Part of the EfficientPower control concept is that the instrumentation panel is now integrated into the right-hand A pillar. This feature, unique industry-wide in this tractor class, means perfect visibility at all times, because the steering wheel does not conceal the instruments.
Using the touch-screen monitor makes it even easier to operate tractor functions such as remote valve settings, hitch and PTO functions. The screens are also ISOBUS-compatible, and offer video connections for external cameras.
Modern transmission technology
All Maxxum EP models are available with either two-step (24 x 24) or four-step (16 x 16 40kph, 17 x 16 40/50kph Eco) powershift transmissions. The powershuttle lever on the left side of the steering wheel enables the operator to change tractor direction without operating the clutch. Automatic speed switching also provides more operating comfort, meaning the driver does not need to constantly concentrate on the engine speed, driving speed and gear selected, the tractor doing this automatically.
The transmission also has a new Ecodrive function, with a 40kph road speed achieved at an engine speed of just 1826rpm, resulting in considerable fuel savings.
On Maxxum Multicontroller models there is a direction change switch on both the left and right of the Multicontroller. This provides the driver with maximum flexibility when changing the direction of travel.
New axle concept
A class 4 front axle is now available as an option. This increases the permissible front axle load by 800kg, which is ideal for front loader work. All wheels now feature standard wheel hubs, allowing wheels to be swapped more easily between different models. A bar axle is optional. Both versions have a 275-millimetre hole circle diameter.
Optional: low roof version
For farms where a lower overall tractor height is important, the Maxxum series is available with a low roof, reducing overall height by 10.5 centimetres. This version, which also features an integrated roof visibility window, fulfils the FOPS specifications.
Economical PTO
Case IH engineers have also redeveloped the speed ratio of the Maxxum tractors' 1000 rpm PTO. It has now been optimised to match the new power curve of the tractors, which has brought about a saving in fuel of up to six per cent thanks to lower engine speed during PTO work. Noise level has also been reduced as a result.
Powerful hitch; more power for hydraulic applications
As one would expect of an all-rounder, the Maxxum is equipped with a very flexible hydraulic system. An axial piston pump delivers high flow rates of up to 113 litres per minute on-demand, and offers pressure and flow regulation. With two 90mm lift rams, one on each lift arm, the rear hitch is now capable of lifting 7867kg, while the front hitch lifts 3100kg. Up to seven electro-hydraulic remote valves allow a wide range of hydraulic functions to be operated without having to swap hoses. Up to four rear remote hydraulic connections and three mid-mount connections can be specified.
New: efficient front hitch operation
A new front hitch management system makes it much easier to operate front-mounted implements. Two height settings can be saved, and there is also an automatic float setting, allowing the front hitch to switch automatically to float mode as soon as it has reached the working position. This is ideal when working with front mowers.
A Power Beyond connection plate is also included. All tractors have Power Beyond connections available, and a new option provides quick-connectors to make it easier to hook up implements to the hydraulic oil supply. The full flow from the hydraulic pump is then available with ISO standard quick couplings for added convenience.
The new Maxxum EP series is built at the St. Valentin plant in Austria, and is immediately available for order.

John Fox Celebrated at Institution of Agricultural Engineers Dinner


New Fullwood Merlin Robot Milking System Launched


New 9R and 9RT Series Tractors from John Deere