UK Gets Exclusivity on Outcross and Red Carrier Genomic Sires
2011-11-23
Semex UK has secured unique access for a limited period to two of Canada's highest-ranking outcross genomic bulls – the outstanding Misty Springs Supersonic and the highly rated red carrier, Hunsberger Alchemy RC. Both are from elite cow families with Shottle as their maternal grand sire.
Misty Springs Shottle Satin, dam of Misty Springs Supersonic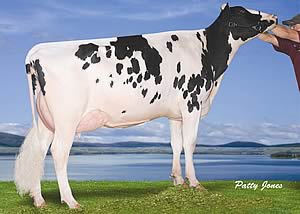 Supersonic is a son of Charlesdale Superstition, out of the VG-86-2yr Misty Springs Shottle Satin, who is out of the well-known Wilsona Freelance Sizzle. In recent years, this cow family has been in great demand. Supersonic's US genomic predictions come in at +2.98 PTAT and +1.6 Daughter Pregnancy Rate, with UK Milk of +789kg. His type profile shows he will breed deep, open-ribbed daughters with very good mobility and strongly-attached udders.

Hunsberger Alchemy is a Destry son out of Hunsberger Shottle Alexis, who is out of O-Man daughter Hunsberger O-Man Riley. The combination of Goldwyn, Shottle and O-Man blood (Destry is by Goldwyn) is producing impressive genomic predictions for Milk (+669kg), Type (+3.27 US PTAT) and functional traits such as UK Somatic Cell Count (-21) and UK Lifespan (+0.7). He is the second highest ranked red carrier genomic bull in the Semex Genomax product line-up.

"Supersonic, being an outcross, is particularly in demand and is already being used as a sire of sons, says Willie Tait, Semex UK's genetics manager. "And dairymen who prefer a red carrier are very interested in Alchemy as a sire of sons too, and for use in flush programs."

Both bulls are priced at £20/straw.

25th Annual Black & White Sale


Allison Secures Holstein UK's Littlestar Award


Reserve Champion Tops Moira Holstein Trade at 3,300 guineas