Beltex and Dunbia Lamb Export Scheme Launched
2011-11-14
The Beltex Sheep Society and Dunbia have launched a new export marketing arrangement for an all year round supply of up to 1,200 Beltex cross lambs per week for the Belgium marketplace with premium prices paid for the highest quality lambs.
Dunbia's Glynne Jones, Beltex Sheep Society's chairman, Maimie Paterson and launch host farmer, Ian Knight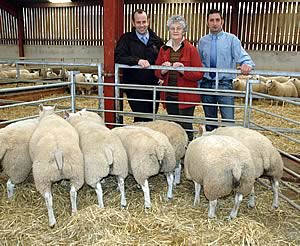 Called the Beltex and Dunbia Lamb Export Scheme, it requires all lambs to be sired by a registered Beltex ram and finishing between 15kg to 21kg deadweight. The scheme will pay an attractive bid price, plus an additional bonus of 10p/kg over and above the 10p/kg which Dunbia already pays for lambs grading U2 and U3L, and the 20p/kg for those within the E2 and E3L specification.

The arrangement which officially commences on Monday 14 November will source Beltex cross lambs from Farm Assured units throughout Britain to Dunbia Preston for an agreed Belgium purchaser supplying both retail and foodservice sectors.

"Belgian lamb buyers are seeking a consistent supply of the premium lamb, and Beltex cross lambs have proven to deliver," explained Dunbia's group lamb procurement manager, Glynne Jones. "We are pleased to launch this new collaboration with the Beltex Sheep Society which will provide an opportunity for a year round supply of up to 1,200 Beltex cross lambs per week sourced via a network of field officers and collection centres throughout England, Scotland and Wales for processing at our Preston plant."

Beltex Sheep Society chairman, Maimie Paterson comments: "We welcome this new opportunity, accompanied by an exclusive arrangement, to work with a leading processor which will reward commercial producers using a registered Beltex ram to achieve the premium lambs required by a very specific and expanding market.

"We are confident that Dunbia's attractive offer will not only achieve a positive response from farmers already producing Beltex cross lambs, but also encourage other commercial producers to make a first time purchase of a registered Beltex ram to supply the new arrangement."

Dunbia's export sales manager, Michael Dundon comments: "We are looking forward to a new stream of consistently high quality lambs to meet supply top end high street butchers. Belgian butchers are very discerning, they are seeking best shape carcases and Beltex cross lambs match their requirements. In return, British producers deserve the best price for their stock, and it's one we are prepared to pay." He adds: "We firmly believe there is potential to build on the current export target of 1,200 lambs per week both in Belgium and to commence penetrating the French market."

Cumbria farmer, Ian Knight, who runs a 520 Texel cross ewe flock at Low Broadleys Farm, Calderbridge, Seascale is among the first to join the marketing initiative. "I've been using Beltex as our flock's terminal sire for more than 14 years simply because it leaves small born lambs yet they're quick to grow, they're very vigorous and quick to stand and suckle. Equally important, the Beltex leaves great carcase lambs hitting the top end of the market.
"This new scheme will help us to not only secure a guaranteed additional premium which comes as a welcome bonus when margins are increasingly tight, but also benefit from working direct with a processor. We are looking forward to Dunbia providing feedback on every lamb which will enable us to determine if there are any potential improvements to be made to feed rate and management which will in turn bring savings and further enhance our Beltex cross lambs' carcase value."

Asda Backed Easy Care Flock Takes Top Sale Honours


New Lleyn Sheep Sale a Great Success


NFUS Asks for Changes to Flock Inspection Approach