Argo Tractors Signals McCormick Engine Pollutants Solution
2010-12-01
Argo Tractors, the manufacturer behind the McCormick range, has indicated how it intends tackling the next stage of exhaust emissions rules on its bigger models.
A 6.7-litre Betapower six-cylinder engine equipped with the SCR system shown alongside the prototype McCormick X70 tractor at the EIMA exhibition in Italy.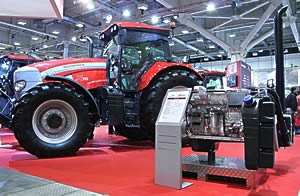 The 'McCormick X70 Autoshift' exhibited at the recent EIMA agricultural machinery show in Italy is a prototype due to enter production next autumn as a successor to the current TTX.
In most respects, it echoes the TTX model's proven package, which channels economical and responsive power from a 6.7-litre engine through the versatile XtraSpeed semi-powershift transmission.
In the X70, a revised version of the TTX tractor's six-cylinder Betapower engine features selective catalytic reduction (SCR) to remove nitrogen oxides (NOx) from the exhaust gases.
New rules that take effect in 2011 require manufacturers to significantly reduce the amount of this pollutant released by diesel engines in off-highway vehicles.
The SCR process injects a small amount of AdBlue, a specially-formulated aqueous urea solution, into the catalyst chamber that forms part of the tractor's exhaust system. Sensors and control electronics manage the system automatically and prevent the engine from running without a supply of AdBlue.
"In partnership with our engine supplier, Argo Tractors has chosen this approach to NOx control because it removes much of the emissions burden from the combustion process," notes Paul Wade, product specialist at McCormick distributor AgriArgo UK. "The next-generation BetaPower engines can therefore be tuned for the best combination of power, torque and efficient use of fuel, while still meeting stricter exhaust emissions limits."
According to the proposed specification, the top model in the range will develop 220hp for draft work and switch automatically to a peak power output of 232hp for pto-powered implements. This compares with 213hp and 225hp outputs from the TTX230, which is currently the top model in the range.
"Until the 'X70' becomes available – which is unlikely to be until the end of next year – the McCormick TTX will continue to provide a first-class power unit for heavy-duty arable and grassland operations," says Paul Wade. "It's most attractive feature, the XtraSpeed transmission, continues to impress operators who like the easily-accessible spread of speeds provided by the eight powershifts and four range gears."
Available with 32-forward and 24-reverse speeds in total – 48x40 with the creep gearbox option – XtraSpeed is also ahead of other semi-powershift transmissions in giving drivers a choice of three different manual and electronic control systems to suit individual preferences.

John Deere Dealer Merger in South-West


New Agriplus Premises to Cope with McCormick Dealer Growth


Dorset Farmer Wins Gator Prize