New Agriplus Premises to Cope with McCormick Dealer Growth
2010-11-24
Being awarded the McCormick franchise three years ago has helped a fledgling agricultural engineering business blossom into a major dealership supplying farmers in North Yorkshire with top-quality tractors and farm equipment.
Rob Stevenson of Agriplus – moving into new premises on the business park at Stokesley marks a significant development for his young business.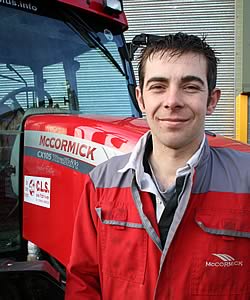 So much so, that Rob Stevenson of Agriplus Ltd has just moved the operation into new premises on the business part at Stokesley, partly for the improved facilities it provides but also because it's a handier location for customers.
"We had some very good workshop facilities at our Guisborough premises but we were a bit off the beaten track," says Rob. "We're much more accessible to customers at Stokesley, especially for farmers on their way home to the Whitby area from Thirsk market."
Rob Stevenson set up his own business after spending the early part of his career as a workshop technician at other farm machinery dealerships. It was there he came to realise how important it is for a business supplying equipment to support customers with a responsive repairs service either on-farm or in the workshop.
"It's the number one priority for Agriplus," he says. "We'll fix problems as quickly as we can to get machines working again but also as thoroughly as we can to avoid any repeat problems."
Since being awarded the McCormick tractor franchise, Rob has taken on a workshop apprentice, David Linford, to learn the ropes alongside service manager Simon Muir. Sue Tucker keeps track of the accounts and Russ Charles has joined the team to handle the extensive parts stock, which has now been organised in the new store at Stokesley.
"We also have a showroom for the first time where customers will be able to pick up consumables, workshop tools and all the things that farmers need day-to-day on a farm," says Rob. "There hasn't been a machinery dealership in the area for 10 years or more selling those sort of items, so I think we'll be filling a big gap in the area."
Tractor sales are progressing too as farmers get used to seeing the bright red McCormick machines in the area. The 126hp four-cylinder MC130 is proving especially popular this year, with the bigger six-cylinder MTX135 also attracting buyers.
"We've been delighted with the McCormick range," says Rob. "It ideally complements the wide choice of quality equipment we supply from companies such as Kongskilde, Major, Fleming, Slewtic attachments, Kockerling, Dal-Bo and our latest franchise appointments, Bomford Turner and Granit parts."
These manufacturers will have equipment on show at an open day to officially launch Agriplus at its new base. The doors are open from 10am to 6pm with refreshments available through the day on Friday, 3rd December when farmers will be able to see for themselves the new premises and what the Agriplus team has to offer.

Dorset Farmer Wins Gator Prize


New John Deere 8R Series Tractors for 2011


Tractors: Core Business of the Argo Industrial Group