Dorset Farmer Wins Gator Prize
2010-11-23
Dorset farmer and Milk Link Board member Simon Banfield is the delighted owner of a new John Deere XUV 850D 4x4 Gator utility vehicle worth £11,000, after winning the special prize draw organised by the RABDF at this year's Dairy Event & Livestock Show at the NEC, sponsored by Barclays Bank.
(left to right) RABDF chief executive Nick Everington with Judith and Simon Banfield in their prize XUV 850D Gator utility vehicle, during the handover earlier this month at the premises of Simon's local John Deere dealer C Smart Agricultural Services Ltd.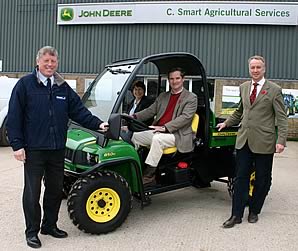 All completed entries posted in one of the Gator-based competition boxes around the show were included in the draw, which took place last month and attracted a total of 2550 entries. The prize Gator has now been delivered to Simon and his wife Judith Banfield by their local John Deere dealer C Smart Agricultural Services Ltd of Dorchester.
"I was doing my stint on the Milk Link stand at the show, and just filled in the prize draw form at one of the exits," says Simon. "I never thought any more about it until we got the phone call saying I'd won, which was a wonderful surprise."
The Banfields run a typical mixed farm enterprise, producing dairy, beef, maize and cereals on a total of 500 acres spread across two farms two miles apart, so the Gator will certainly be kept very busy. "Judith also runs a small caravan site on the farm, so it will undoubtedly come in very useful there too – it will be perfect for carrying the grass cuttings and waste bins," he adds.
"We do a lot of travelling between the two farm sites, so we may need to get the Gator road homologated. We have a Land Rover, but we have never run a utility vehicle, so I think we're going to have a lot of fun with it."
The award-winning 24hp John Deere XUV Gator is specifically designed for off-road and rough-terrain use, and features a true four-wheel drive traction system, a dual range continuously variable transmission, all-round independent suspension and a maximum payload capacity of 635kg. It is available in the standard John Deere green and yellow livery, and now in a new olive and black livery for those who prefer a more camouflaged alternative.

New John Deere 8R Series Tractors for 2011


Tractors: Core Business of the Argo Industrial Group


John Deere Gator Gets a Major Makeover