Three Counties Show Man Wins Derek Cooper Award
2010-11-30
The Three Counties Agricultural Society's Chief Steward of Pigs has won the prestigious Derek Cooper Award at the eleventh annual BBC Food & Farming Awards 2010.
Richard Lutwyche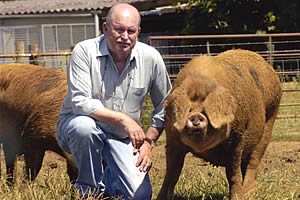 Gloucestershire man, Richard Lutwyche, who is a member of the Society's council and oversees the pig section and the rare breeds section of the annual Three Counties Show, was nominated for his tireless efforts on the 'Conservation through Consumption' campaign to safeguard the future of Britain's native breeds, many of which were on the brink of extinction.
His long-standing involvement with the Traditional Breeds Meat Marketing Company, the Rare Breeds Survival Trust and the Gloucestershire Old Spots Pig Breeders Club, and his dedication to making sure that traditional breeds are known and championed by farmers, retailers and consumers alike, earned him the coveted award ahead of the National Trust's 'Food Glorious Food' campaign and Middlesborough Environment City's 'Town Meal' scheme.
He said: "I am very surprised to be the recipient of such a special accolade, and more than a little delighted."
Described by Jamie Oliver as "the Oscars of the food world", the BBC Food & Farming Awards celebrates the best of British food and the people who produce it.
Richard picked up his award at a special ceremony, hosted by BBC Radio 4's Food Programme presenter, Sheila Dillon, at the NEC, Birmingham on 24 November.
When he is not picking up awards, Richard is busy writing, and has been putting his admiration for the humble porcine into words with a brand new book entitled 'Higgledy Piggledy' (Quiller Books).
In this latest work, he explores the influence of the pig's quirky nature and characteristics on language and literature, and celebrates piggy appearances in the media with a wide array of quotations from Shakespeare, Bunyan and Kipling, Noel Coward, Beatrix Potter and even The Goon Show!
The book is a light-hearted look at an intelligent and endearing farmyard animal and its less obvious relationships with mankind. It includes inn signs with piggy connections, heroic life-saving hogs, pigs that rock and record-breaking pigs, together with a whole host of famous 'Piggy People'; Sir Ian Botham, George Clooney, Vinnie Jones, James Dean, Sir Winston Churchill and Queen Mary.
His previous titles include Pig Keeping (The National Trust).

David Black Award Winner Thrown In at the Deep End!


Lleyn Ram Lluest King Sells for £16,000


Easy Care Sheep Top at 1000gns at Worcester