Reigning Champions Qualify for 2011 World Sheep Dog Trials
2010-09-16
Reigning World Sheep Dog Trials champion, Welshman Aled Owen and his dog Roy, will defend their title at next year's renewal.
Defending World Sheep Dog Trials champions Aled Owen and Roy are pictured at this year's Welsh National Trials.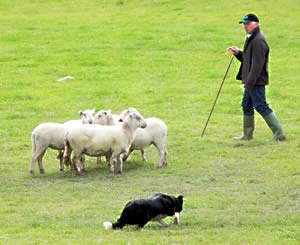 Aled, of Penyfed, Ty-Nant, Corwen, Denbighshire, finished fourth in the recent 2010 Welsh National Trials, which was good enough for the legendary duo to qualify for the 2011 World Sheep Dog Trials, which are now just 12 months away.

They are to be staged in England for the first time at Lowther Park Estate, near Penrith, on the edge of the Lake District in Cumbria, from September 15-18, 2011.

Aled and Roy landed the 2008 world title on home territory in Wales for the second time. He was also world champion with Bob at the inaugural trials in 2002 and will be bidding for what would prove a unique hat-trick.

With Roy, also Supreme Champion in 2007 and now aged seven, Aled must again have leading claims. "To win again at next year's 4th World Trials would be a once-in-a-lifetime achievement, but it's a milestone I will be going all out to attain," said the renowned handler.

He will face strong competition, including the 2005 reserve world champion, fellow Welshman Nigel Watkins, of Llangadog, Carmarthenshire, who qualified with two dogs – Jody and Floss – at this year's Welsh Nationals.

In fact, the majority of the 24 qualifiers from each of the four home nations are now known following national trials staged in Wales, Scotland, Ireland and England.

They will be among a total of 240 competitors representing 25 countries at the 2011 World Sheep Dog Trials, the pinnacle for working sheep dog enthusiasts around the globe. For the first time, Japan is fielding a team.


World Trials sponsor Ceri Rundle, of CSJ Specialist Canine Feeds, is pictured with Norman Lorton, International Sheep Dog Society chief executive.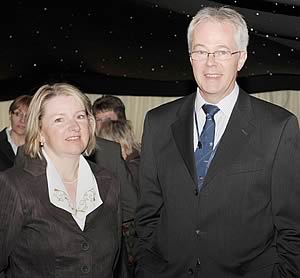 Administered by the International Sheep Dog Society (ISDS), organisation of the World Trials, which will also incorporate a Food & Country Festival promoting local food and crafts, is in the hands of a local committee headed by ISDS English president and well-known trialist Tim Longton, of Rooten Brook Farm, Quernmore, Lancaster.

Mr Longton said: "We are well on track for what will be one of the biggest events of its kind ever seen in Cumbria. The inclusion of a team from Japan for the first time further enhances the worldwide appeal of the trials.

"We are indebted to those who have already provided or promised sponsorship and are continuing in our quest to attract more sponsors, with sums both large and small, to enable us to achieve the target of £200,000 to ensure that the 2011 World Trials are the best yet."

One major sponsor already in place is CSJ Specialist Canine Feeds, based in Bodfari, Denbighshire, Wales, which also sponsored the 2008 ISDS World Sheep Dog Trials in Wales.

Run by well-known international sheep dog trialist and judge, Ceri Rundle, the company's natural canine feeds, herbal supplements and treats are used by many of the top dog handlers.

Ceri's – her father H. Glyn Jones is a former International Supreme and Reserve Supreme Champion – was the first lady to appear on One Man & His Dog.

Lleyn Sheep Show & Sale at Ballymena


Lleyn Ewes Sell to £202 at Ruthin


Hit the Spec Lamb Carcass Competition Winners Announced at Glendale Show