Who Raises the Best Border Lamb?
2010-09-01
At this week's Glendale Show, the winners of a new livestock competition, "Meet the Spec ", organised by The Glendale Agriculture Society in conjunction with Border Livestock Exchange Ltd and Woodhead Brothers, were announced.
1st prize with 815 points, receiving £500 was Danny Spours of SH Spours and Sons, Henlaw, Chatton.
2nd Prize with 759 points, receiving £100 was Eric Rogerson of Whittingham Grange.
3rd prize with 749 points receiving £50 was Nick Hargreaves of High Learchild near Whittingham.
James Logan, Danny Spours & Harry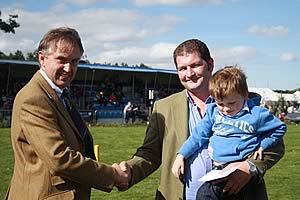 The aim of this new competition was to test the skill of farmers in judging their livestock as fit for the housewife to buy for the table. They had to present a perfect batch of lamb carcasses. From the beginning of the lamb season until 25th August producers consigned batches of 10 lambs, weighing 19kg R3Ls or better, to Border Livestock Exchange Ltd. Lambs were graded at Woodhead Brothers's Turriff Abattoir, where points were gained for carcasses graded better than R3L and deducted for weights above and below 19kg.
Glendale is renowned as being one of the foremost livestock rearing areas in the country and Chief Livestock Steward John Guiry was delighted that this competition was so well supported: "It is very important that we support the livestock industry in the area and the knowledge associated with this type of farming. This was an innovative competition and an excellent way for farmers to test their grading skills. I would like to thank everyone who took the time to enter."
Each entry consisted of lambs chosen by the farmer and sent to the abattoir. "Danny Spour's winner, "killed out" best, in terms of weight and quality" said James Logan, Director of Border Livestock Exchange Ltd. "We have had a great response from many farmers from across Northumberland and the Scottish Borders who do not normally show lambs. The quality was tremendous and it has been a very difficult competition for farms to get right." "This has been a great shop window to highlight exactly what the trade really want. I would like to take this opportunity to thank Woodhead Brothers and the Glendale Agricultural Society for their support of this competition."

Traffic Flow a Priority at NSA Wales and Border Ram Sale


West Country Annual Lleyn Sheep Society Sale at Exeter


Strong Support for Welsh National Texel Sale in Welshpool