Northern Ireland Commercial Cattle Exhibitors' Club Show
2010-08-24
A record number of prime beef cattle were presented to Welsh judge, Arfon Jones, at the Northern Ireland Commercial Cattle Exhibitors' Club's 6th annual show, held at Moira on Friday 20th August 2010.
The one-day showcase event attracted over 120 entries, with both novice and experienced exhibitors competing for a share of the bumper prize fund.
Clive Hoey, Fivemiletown, won the supreme championship with his heavyweight heifer at the NICCEC 6th annual show, Moira. Adding their congratulations are Gareth Gibson, Corby Rock, sponsor; and Ralph Pickering who presented the Gary Pickering Memorial Trophy.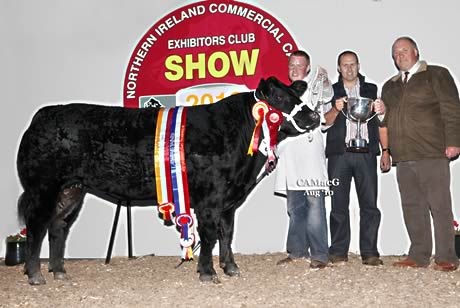 Claiming the supreme championship honours at the 6th annual show was 'Xtra Factor', a heavyweight Limousin heifer exhibited by Clive Hoey from Fivemiletown, County Tyrone. This super heifer was bred from a British Blue cow, and was purchased from Sean McCloskey, Claudy, County Londonderry. She scooped the reserve championship at Ballymena Show in May, and was crowned commercial beef champion at Enniskillen Show a few weeks ago.
A delighted Clive Hoey received the £500 cash prize from Gareth Gibson of Corby Rock Mill, and the prestigious Gary Pickering Memorial Perpetual Trophy from Ralph Pickering, Magherafelt. This much-admired heifer also claimed the Limousin championship ribbons.
Alan Farlow, Garvagh, won the reserve overall championship at the NICCEC 6th annual show, Moira, with his light/midweight heifer. Included are Alan Carson and David Beattie, Natural Stockcare, sponsors.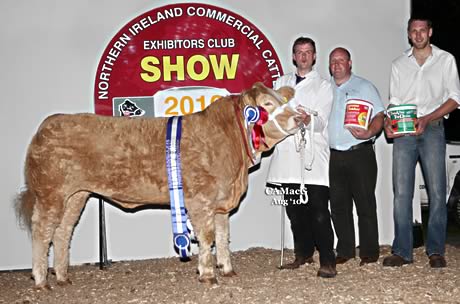 Scooping for the £250 cash prize, sponsored by Natural Stockcare Ltd, for the reserve supreme champion was the tremendous Charolais heifer, 'Hillview Dora', shown by Alan Farlow, Garvagh. Sired by a Charolais bull, and out of a three-quarter-bred Limousin heifer, she was also bred by Sean McCloskey, and was purchased at Swatragh Mart. This eye-catching heifer claimed the championship honours at Balmoral, Ballymena and Ballymoney.
"I'd like to thank the organisers for inviting me to judge," said suckler herd owner and fatstock producer, Arfon Jones. "I've had a long journey from Anglesey, but it has been a privilege to judge at this fantastic show. The classes were full of quality cattle and I had difficult decisions to make throughout the day. Congratulations to the winners, and all the exhibitors for putting on such a terrific show of stock."
Mr Jones added:"I would like to congratulate all the youngsters who took part in today's show. It is great to see such enthusiasm, and these young people should be encouraged as they are the showmen and women of the future!"
The calf champion at the NICCEC 6th annual show, Moira, was owned by Sean and PJ O'Kane, Dunloy. Included is Thomas Smyth, E A Bell Ltd County Stores, sponsor.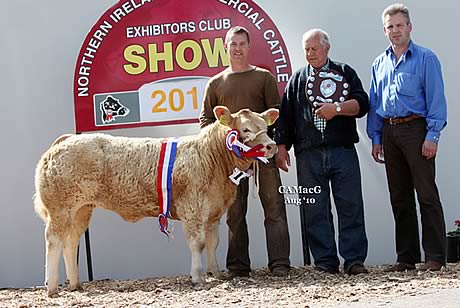 Patrick John O'Kane, and son, Sean, from Dunloy, claimed the calf championship ribbons and the £300 cash prize sponsored by E A Bell Ltd Country Stores. Their winning entry was a Charolais heifer calf sired by the herd's stock bull, Curragh Cahir Bill. They also received the Dectomax Shield for the best exhibitor-bred calf.
The reserve calf champion was owned by Gerry Law, Kesh, and exhibited by Richard Law and James Law. Included is Brian Kennedy, AI Services (NI) Ltd, sponsor.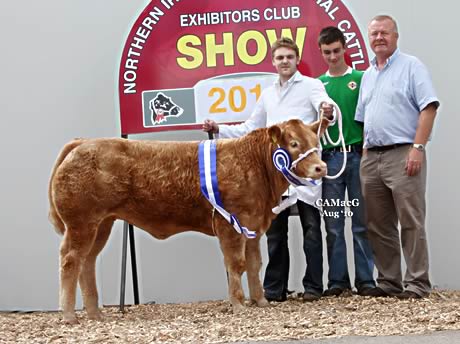 Runner-up in the calf championship, and winner of the £200 cash award sponsored by AI Services (NI) Ltd was the second prize winning heifer calf bred by Gerry Law who runs a 160-cow suckler herd based at Kesh. This home-bred entry was sired by the herd's Charolais stock bull, Waterview Victorious, and is out of a British Blue cow.
The husband and wife team of Nigel and Sandra Cochrane, Portadown, won the Dunbia Cup for the best butchers' heifer for the second year in succession. Their British Blonde cross heifer caught the eye of class judge, Will Corrie, Newtownards.
The award for the best pair of cattle went to a well-matched pair of Charolais heifers shown by McKenna Bros; while the runner-up award went to James Alexander, Randalstown, for a Charolais heifer and bullock duo.
The breed classes were judged by Gene McCann from Julianstown, County Meath. "This is a super show with some exceptional cattle," said Mr McCann who runs the 30-cow Topnotch Charolais herd alongside a commercial beef cattle enterprise.
The Charolais championship went to a heifer calf owned by Gerry Law, Kesh. Standing in reserve position was a heifer calf exhibited by McKenna Bros.
Sarah and Sam Matchett, Portadown, had a clean sweep in the Aberdeen Angus line-up, claiming both the champion and reserve prizes. The reserve Limousin leader was a lightweight steer shown by McKenna Bros. Lauren McKenna has affectionately named this steer 'Spooks Junior'', after last year's overall champion, 'Spooks' – he has scooped numerous championship awards in southern Ireland for new owners, Connell Bros, County Meath.
The British Blue championship was secured by a heifer owned by James Alexander, Randalstown; while the reserve championship went to heifer brought out by brothers, Derek and Alan McCrea, Strabane.
Snapping up the British Blonde championship was a heavy heifer shown by Allister Crawford and Richard Beattie from Newtownstewart, County Tyrone. Standing in reserve position was a heifer exhibited by John Killen, and daughters, Shauna and Katrina, Crossgar.
A bullock exhibited by Robert Simpson, Aughnacloy, claimed the Beef Shorthorn championship, with the runner-up ribbons presented to a bullock brought out by Jack Smyth, Strabane.
The any other breed champion was a Simmental heifer shown by Gerry Law, Kesh.
The young handlers' competition was judged by Tom Stevenson from Scotland. He awarded first prize in the under 12-year-old class to Aaron Campbell from Lisburn. The winner of the 12 to 16-year-old class was Louise Breen from Clogher.
John McSorley, chairman of the Northern Ireland Commercial Cattle Exhibitors' Club said:"It has been another fantastic event. This year's show attracted in excess of 120 cattle, which is a record entry for the event. I would like to thank everyone for participating and helping to make this show bigger and better than ever. "
Mr McSorley added:"A special thank you to our judges for giving up their time; and a big thank you to our sponsors for their generous financial support."
The club's assistant secretary, Robert Currie, concluded by thanking Willie Wilson and the staff of R A Noble and Co for the use of the facilities at the Pedigree Sales Arena.
Judges, Arfon Jones, Anglesey, Wales, and Gene McCann, Julianstown, County Meath, receive gifts from Robert Currie, assistant secretary, and John McSorley, chairman, NI Commercial Cattle Exhibitors Club.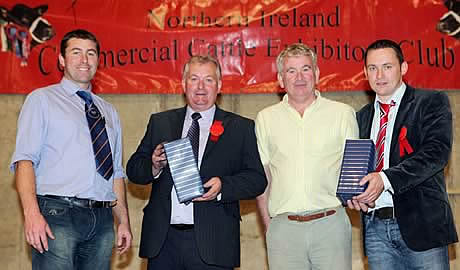 results from the judging ring

Elite Simmental Cattle Sale Tops at 12,000 Guineas


Oisin Murnion is New National Beef Association Board Chairman


Simmental Breeders at Enniskillen Show