2010-08-05

Catalogues are now available for the NI Simmental Cattle Breeders' Club 40th Anniversary Elite Female Show and Sale, which takes place at Omagh Mart on Friday, August 20.

Discussing plans for the 40th Anniversary Elite Female Show and Sale are NI Simmental Cattle Breeders' Club chairman, Pat Kelly, committee member, Thelma Gorman, and secretary, Robin Boyd.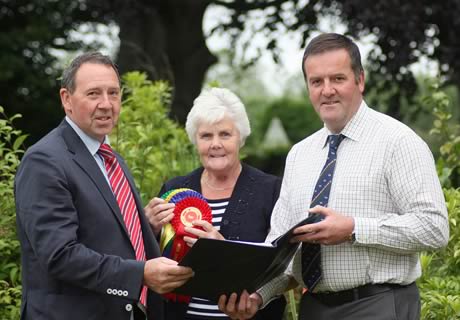 The catalogue represents an exclusive selection of 31 quality females, and will provide pedigree breeders with a unique opportunity to purchase the cream of Northern Ireland's Simmental genetics. Entries for the sale range in age from September 2009, with the youngest heifer born in October 2009.
All heifers have been selected by Scottish breeder, David Lowry, and will be inspected by a veterinary surgeon prior to sale. The auction will be held under NBA rules, and all entries will have been pre-tested and eligible for immediate export to Ireland and the UK.
Judging is in the capable hands of British Simmental Cattle Society president, Hector Macaskill from Innerwick, Dunbar, East Lothian, and will commence at 10am sharp. Auctioneer, Noel Erskine, will put the first lot under the hammer at 12.30pm.
Cara Moore from Beragh, County Tyrone, is all set for the
NI Simmental Club's 40th Anniversary show and sale of elite heifers.
Sponsors for the event include: John Thompson and Sons Ltd; Woodcraft Kitchens, Kilrea; Irwin Feeds; Redrock Machinery; McGirr Haulage, Tempo; Millburn Concrete, Cookstown); and Lafarge Concrete.

Simmental Breeders at Enniskillen Show


Cloned Cattle Must Be Identified Says NBA


All-Ireland Aberdeen Angus Championships 2010