New High Specification Trace Element Cattle Capsules
2010-07-27
This week the Denis Brinicombe Group releases two new high specification trace element capsules, replacing Cattle Caps.
Main factory in Crediton, Devon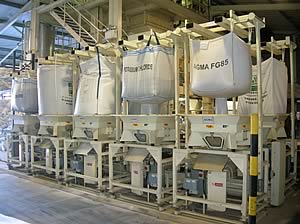 The capsules, administered by a bolus gun, are formulated for two specific classes of cattle.
Cow Caps are formulated for all cows, both dairy and suckler, as a boost to fertility either pre-calving or at first service whether mature cows or maiden heifers.
Grazing Caps are formulated for all grazing cattle to provide them with the correct balance of essential trace elements through the summer grazing period.
Both Caps are designed to dissolve in the rumen releasing the high end protected trace elements into the animals gut for storage in the liver and other organs to be released slowly over time, as required by the animal.
A major advantage of the capsules is that they dissolve in the rumen, immediately following administration, avoiding the problem associated with a hard bolus of regurgitation or being passed through the gut and into the dung.
Each Cow Cap or Grazing Cap contains a balanced formulation of Zinc, Iodine, Selenium, Cobalt and Copper appropriate to the class of animal being dosed.
The upgrade has been possible by including more concentrated trace elements in both capsule formulations.

Started in 1973 the Denis Brinicombe Group is still a family owned business with Head Offices and main manufacturing site in Crediton, Devon. They have a national coverage by over 50 representatives with transport depots and liquid feed manufacturing plants in Welshpool, Ripon and Carluke. Denis Brinicombe purchased FSL Bells from Tate & Lyle PLC in January 2002 and has continually invested since the acquisition.

Kiotech Appoints Lucy Waldron as Senior Nutrionist


BOCM Pauls Invests in Learning


BOCM Pauls New Ruminant Feed Product Lintec Brings Livestock Health Benefits