New Ruminant Feed Product Brings Livestock Health Benefits
2010-07-12
The emphasis on production and high-yielding dairy herds has shifted the focus of cow diets away from their original feed - grass. But now a new and revolutionary ruminant feed product which mirrors the Omega 3 content of spring grass has been introduced to the UK, with claims that it improves animal health, milk production and fertility - as well as having spin-off benefits for human health and the environment. It will also provide opportunities for UK cereal producers.
Good enough to eat! A cow at Liverpool University rips open a bag of Lintec watched by BOCM PAULS' national ruminant manager David Forbes.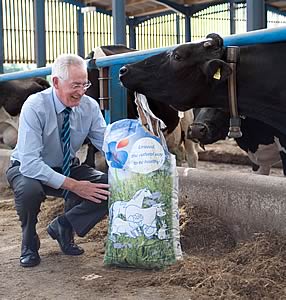 In what BOCM PAULS is calling "an extremely significant find", the new product, Lintec, derived from linseed, brings health benefits for cows by boosting beneficial Omega 3 levels in the diet. Because Lintec also affects the fatty acid metabolism within the cow, saturated fat levels in milk, cheese and meat are also reduced, with obvious consumer health benefits. Methane output is also cut.
Lintec comes from linseed grown in the UK from specific varieties of seed high in Omega 3 (alpha linolenic acid), from specialist arable business Premium Crops, which has been treated via a new patented thermo extrusion process developed by French company Valorex over the last 18 years. The process releases significantly more oil from the linseed than other processes, as well as protecting part of the oil, protein and starch from degradation in the rumen.
Lintec is fed either as a straight, or included in compound feeds or blends. It is 26% oil, 18% protein and has an ME of 17.3 MJ/kg. Lintec is thus a concentrated source of energy, with almost 4MJ/kg DM more than wheat. But it differs significantly from starch raw materials because it does not promote significant acid production in the rumen.
The Lintec extrusion process resulted in a high degree of rumen protection but the product is not completely rumen by-passed, and some is digested in the rumen. It is here where it changes the fatty acid metabolism of the cow and brings about its saturated fat and methane reducing effects.
The product also has the effect of increasing the permeability of the rumen wall, preventing acids from staying in the rumen for a long time by increasing the size of the rumen papillae. The net effect is that the risk of SARA (Subacute Ruminal Acidosis) is again reduced.
BOCM's national ruminant development manager Wyn Morris said comprehensive on farm testing on more than 50 units over six months last winter showed that Lintec increased milk yield, fertility levels and cow health. Other studies have shown that it lowers the production of saturated fat levels in milk, meaning more energy is available for production and body condition.
Consultant vet James Husband of EBVC (Evidence Based Veterinary Consultancy) in Cumbria, who has monitored the product on farm, said Lintec had major benefits for the rumen, udder, and liver. It also had a very strong consumer message.
Fats and oils produce a lot of energy when digested, and have very diverse functions - affecting immunity and inflammatory responses, fertility and embryonic mortality, cell membranes and liver metabolism, said Mr Husband.
"The main health challenges to the dairy cow are met in the immediate time around calving and early lactation when we see the vast majority of metabolic problems. At that time up to 50% of cows will have infiltration of fat into the liver," he said. "Lintec will help at this crucial time by helping the rumen and liver deal with the fats."
"Cow health and productivity are inextricably linked to rumen function. These include SARA, displaced abomasum which can cost up to £600 in vet's bills, lameness and fertility," he said. "The rumen priming effect of Lintec allowed producers to push their cows safely without risking acidosis," he added.
If the uptake of the product is as good as BOCM PAULS expects, the acreage of linseed grown in the UK would need to expand by 35%. BOCM will be considering manufacturing Lintec in the UK shortly, as opposed to shipping the linseed over to France for extrusion as currently happens.
David Forbes, BOCM PAULS' national ruminant marketing manager said: "Every so often we come across one raw material which changes the way we think about nutrition. Lintec has done this - be it nutrition for dairy, beef or sheep. For us, it's a very big product."

Brinicombe B2B Nutrition On The Web


International Prices of Agricultural Commodities Drop


FAO Urges Early Action on Climate Change Responses