Asda LambLink Opens Gates on Open Farm Sunday
2010-06-16
As principle sponsors of Open Farm Sunday, which saw farms across the UK, open their gates to the public on the 13th June, supermarket retailer Asda launched its Asda LambLink Education and Demonstration farm at Mill Farm, Oxton, Nottingham.
Visitors at Mill Farm sheep pens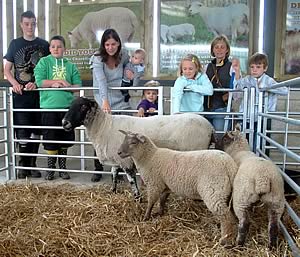 The farm, which is owned and managed by Mick and Sandra Asher, was one of many farms which supply Asda to open up for the public at the weekend.

"We've encouraged as many of our beef, sheep, dairy and fresh produce farmers to open their farm gates to the public and reconnect Asda customers with the important knowledge of where and how British produce is produced," explained Asda's senior beef buyer Jim Viggars, who attended the open day at Mill Farm.


"The farm itself was complete with education points for the public providing information about traditional breeds of livestock and farming methods. It was particularly encouraging to see young children interacting with the livestock and asking plenty of questions.

"Not only was Mill Farm the perfect place for an Open Farm Sunday event, the farm will now act as a fundamental on-going research project for Asda in conjunction with other Asda LambLink producers," added Mr Viggars.

The system will work on a similar level to the recently launched BeefLink Education and Demonstration farm in York, which is run by Mike and Tom Powley. "We plan to hold producer group meetings at Mill Farm throughout the year and work with Mick and Sandra Asher in various research trials in an attempt to help improve performance across all our LambLink farms," explained Mr Viggars.

Students Win Scholarships from Agricultural Society


Success Commended at Agri Placement Awards


Cut Red Tape for Future Farmers