Success Commended at Agri Placement Awards
2010-05-20
Agriculture students at Harper Adams have been honoured for their outstanding performance while on placement.
Katie Dymond receives the NatWest first prize
from Ian Hardcastle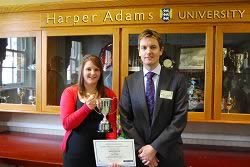 Students were invited to an award ceremony at the University College with their parents to find out who had won the NatWest Placement Awards and Andrew Lewis Trophy.
Matthew Back, Placement Manager, opened the event by explaining the importance of the placement year. He said: "Placement is without doubt a key ingredient to the success of our courses at Harper Adams.
"It allows our students to explore their vocational interests, develop new skills and hopefully make some valuable contacts and friends in the industry to help support them in the future."
Ian Hardcastle, Head of Agriculture at NatWest presented awards to three HND Agriculture students - Eleanor Meadows, Chris Roberts and first prize winner Katie Dymond.
He said: "This year we had seven finalists and we looked in detail at the experiences that they encountered while on placement particularly from a business angle.
"This is my first year judging and I was unsure of what to expect, but what I found was I was really impressed with the quality and level of appreciation that they have from being on placement."
21-year-old Katie from Beaworthy, Devon, scooped the first prize of £250. She said: "I worked for 12 months with the RWM Food Group Ltd and had a mix between working at the abattoir and with the calf rearing group.
"I'm a bit overwhelmed really, I didn't think that I would get it, but I did, and I'd like the thank everyone who helped me to achieve it."
Runners-up were Joanne Smith, Sam Carey, Victoria Sturgess and Matthew Turner. Also awarded, was the Andrew Lewis Trophy, a prize given in memory of former student Andrew Lewis.
Andrew's mother Sheila Lewis presented the trophy to both Stuart Williams and Frank Hutchinson. She said: "We gave this to Harper Adams because Andrew was so happy here, it fulfilled what he wanted to do and helped him enormously.
"The atmosphere is lovely and I am so happy to be invited to return each year, I really enjoy the day."
22-year old Frank from Belford in Northumberland spent his placement year working on a research hill farm in West Wales. He said: "I worked on a variety of grazing studies and a sheep breeding scheme as well as visiting a site with intensive animal trials.
"It was a really interesting experience and I am thrilled to win this award."
Stuart, aged 22 from Haverfordwest in Pembrokeshire said: "I worked for Genus ABS as a Market Analyst before being promoted to Product Manager of beef and silage additive.
"Receiving this award is a great honour because there is a vast number of students and employers to choose from, to win it really means a lot."
Runners up were Jane Oliver, Graham Potterton and David Stead.

Cut Red Tape for Future Farmers


Livestock Producers Urged to Make Grassland a Priority in 2010


Integrate Silage Making Carefully with Grazing