Cut Red Tape for Future Farmers
2010-05-04
Rationalising red tape and over regulation is a priority for Future Farmers of Wales Chairman, Rhys Lougher. He is urging farmers to provide him with examples so that he can give the Welsh Assembly Government an evidence-based report.
Future Farmers of Wales at the Millennium Stadium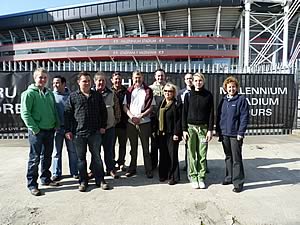 Bridgend based Rhys who bottles and sells the milk produced at his family's Tytanglwyst Farm recently met Rural Affairs Minister Elin Jones and officials to discuss the frequency and overlap of inspections. He says that while he believes in the point of difference regional branding provides, there is major frustration over what is widely regarded as a waste of precious time resources on farms.
He says: "I and the vast majority of young farmers do not have a problem with Farm Assurance. We take pride in the food we produce and the standards to which we operate, and we want to have a point of difference from foreign imports.
"Farm assurance with the red tractor logo and Welsh/Regional branding is the way to achieve this. But frequent, overlapping, inspections are a major frustration and a timely cost that we cannot afford.
"My dates show six inspections at Tytanglwyst between 1/3/2008 & 1/3/2010. This situation has improved since the time period prior to this, as we now have combined FAWL & Dairy Farm Assurance audits but to have six widely overlapping audits in a two year window I consider to be over the top regulation. This is especially true when none of the audits have thrown up any problems or serious concerns."
Mr Lougher added that the farm also had whole herd annual T.B. tests and pre-movement testing of stock and also the possibility of Cross Compliance Inspections, field boundary/mapping inspection, Environment Agency visits, Passport and Ear Tag Checks.
He was particularly concerned that local authority and Assured Dairy Farms Audit inspections represented a 100% overlap and called for better communication between these agencies and with the Dairy Hygiene Inspectorate.

Livestock Producers Urged to Make Grassland a Priority in 2010


Integrate Silage Making Carefully with Grazing


New Study to Measure Quality of Beef on Sale