Cast Chassis Beefs up Six-Model Landini 7 Series Tractors
2010-05-20
The strength of a heavy-duty cast iron chassis helps the latest Landini six-cylinder tractors cope with the stresses and strains of operating heavy grassland and arable implements front and rear.
Landini's new 7 Series six-cylinder tractor range features a cast chassis for added strength, especially when operating front- and rear-mounted implement combinations.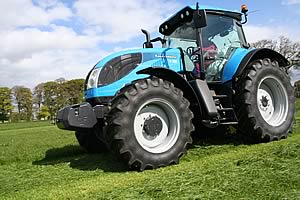 The 7 Series combines into one line-up six models derived from the 145hp to 162hp Powermax and 171hp to 225hp Powermaster. Engine power and torque outputs, and hydraulics performance, continue as before – but there is a new addition to the range.
The 7-185 model's 6.7-litre engine produces up to 171hp for draft work and 183hp when 'power boost' automatically increases output for transport and pto operations.
As well as the cast chassis, all Landini 7 Series tractors now use the same Vanesco electronic system for precision control of the three-point linkage; and instead of just one control specification there are now three different combinations of transmission and spool valve controls to suit budgets and preferences.
"This is a tough tractor made even tougher with the introduction of the chassis," says Landini product specialist Eamon Howden. "It not only adds 'backbone' strength but also helps isolate the cab from engine-generated noise and vibration."
For maximum comfort, buyers can add hydro-pneumatic cab suspension, as well as independent front axle suspension that can improve heavy draft traction in the field.
The 6.7-litre six-cylinder Fiat Powertrain (FPT) engine is now carried on iso mounts by the chassis instead of being part of the tractor's load-bearing structure. Its power and torque characteristics encourage operators to work the engines at relatively low revs, resulting in good opportunities to save fuel.
"There's plenty of low-end torque," says Eamon Howden. "So the pto is geared to take advantage of that and operators should shift up on draft work to drive the revs down for maximum fuel and power efficiency."
Maximum outputs for draft work increase by an average of 7.5% across the range when the Power Management system automatically alters the fuelling profile. This feature is triggered when torque is detected at the pto shaft and on the 7-145 to 7-190 models when the top range is selected for transport.
With the Landini Autopowershift transmission providing eight button-shift speeds in each range, plus button range shifting on electronic versions, operators can make best use of these power and torque characteristics.
"Most operators have to make do with just three or four powershifts," emphasises Eamon Howden. "Just imagine how easy it is to keep the engine spinning at the right speed for peak performance and/or economy when you can easily flick between eight speeds under load."
Buyers can now choose one of three different configurations for transmission control and spool valve operation on their 7 Series tractors; only the premium Full Tronic system was available with the Powermax and Powermaster.
Full Tronic remains the top-spec option for the 7 Series. It provides seat-mounted lift linkage and transmission controls, including electronic range change and powershift operation with programmable start-up and shuttle gears, plus a full complement of electronic spool valves.
The Comfort option has much the same features but with all controls located on the side console, while Techno spec is for operators who prefer a traditional range gear lever with a thumb-flick powershift switch and are content with mechanical spool valves.
Within the transmission, Landini engineers have uprated the separate forward and reverse clutch packs, and developed a choice of two Autopowershift variations with any of the transmission control options. Both feature Auto Roading, which provides automatic up- and down-changes among the eight powershift ratios for easy road driving.
The Top Fifty transmission, geared for 50kph maximum speed, comes as a package with fixed wheel rims and front axle and cab suspension. The Eco Forty version is economy orientated in that 40kph is achieved at just 1800rpm.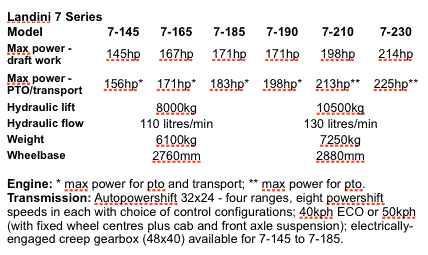 First Customer Takes Delivery of New McCormick MC130 Tractor


Scotgrass 2010 Attracts the Crowds


John Deere Dealers Complete Brake Test Training