John Deere Dealers Complete Brake Test Training
2010-05-17
John Deere has recently completed an extensive programme of dealer training in the UK and Ireland, as part of the current industry wide 'Look Behind You' campaign to promote safe tractor and trailer braking.
Over 120 John Deere agricultural dealer service managers from the UK & Ireland were represented at the company's annual service managers meeting held at Langar this spring, where the initial launch of the brake test solution and in-depth training were included in the programme.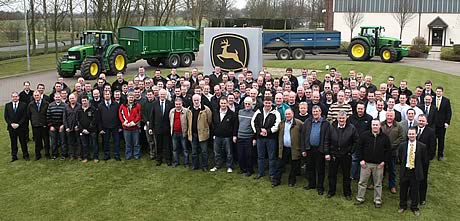 Over 160 dealer technicians and service managers have undergone in-depth training on the use of industry approved Brake-safe™ test kits, designed to check that the braking systems on trailers and the towing tractor are working safely and efficiently. The majority of the company's agricultural dealers have now invested in the kits, covering over 80 dealer locations in total across the UK and Ireland.
"This initiative is part of the continuing investment by John Deere and our dealer network, to ensure that customers' machines comply with legislation and to help contribute to higher levels of road safety," says John Deere's division service manager Stuart Minter.
"Over many years there has been a growing trend towards the use of larger, heavier trailers and higher horsepower, faster tractors to pull them. The industry is now taking a common approach to solve the problems caused by these issues, and promote the safe braking of tractor and trailer combinations on the road."
The 'Look Behind You' campaign was initiated in 2009 by all the main tractor manufacturers, the Department for Transport (DfT) and the HSE, in association with the AEA and with the support of trailer manufacturers. All tractor manufacturers test to the same agreed standard, utilising the same procedures and equipment, and while some have outsourced their brake test training to BAGMA, others including John Deere have chosen to deliver the training through their own in-house resources.
Using the new test kit, overall tractor, trailer or combination brake efficiency can be quantifiably measured, and dealers will be able to demonstrate to customers where potential deficiencies in brake systems may exist. The service will therefore allow farmers and contractors for the first time to satisfy themselves either of their combination's safe braking capabilities, or the need to maintain or upgrade their braking system as required.
"With tractor and implement sizes and road speeds going up all the time, brake failures have been steadily rising over the last few years, so this new customer training initiative is very welcome," adds Philip Hannah, service manager of John Deere dealer J E Buckle (Engineers) at Maulden in Bedfordshire. "Customers will happily change the oil in their tractor and pump up the tyres on their trailers and implements, but they won't think about checking their brakes. Having one standard, industry approved system is a very good idea – the brake testing kit is the same across the whole industry, so customers will get the same message whichever manufacturer they speak to."

Ben Spink and Case IH go the Distance for Kidney Research


Scotgrass 2010 Showcases Wide Range of Products


Something for Everyone at NSA Scotsheep 2010