Scotgrass 2010 Attracts the Crowds
2010-05-20
More than 5,000 visitors attended the recent Scotgrass event organised in Dumfries by SAC and the Agricultural Engineers Association.
Scotgrass 2010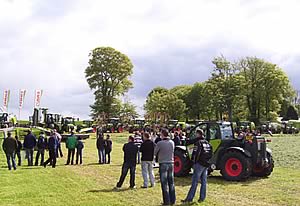 Using 140 acres of the Crichton Royal and Acrehead dairy units the demonstrations of working machinery, technical stands and a Knowledge Exchange marquee Scotgrass contained everything a farmer might want to know about managing and conserving grass. Visitors from as far south as Devon joined those from Cumbria, southern Scotland and both sides of the Irish Border and saw displays about the environmental aspects of grassland farming as well as production.
Watching a manufacturers' demonstration of silage making machinery Dr Dave Roberts, Head of SAC's Dairy Research Centre at Crichton and President of the British Grassland Society, stressed to Ken Rundle the importance of working events where farmers could see for themselves the latest techniques.
"Good grass management is not just important to the dairy farmers here in the south west. Beef and sheep producers can learn something new as well. We have a field where there are demonstrations on slurry and muck management while other demonstrations deal with the ways farmers can reduce the carbon footprint on their farms by addressing issues surrounding greenhouse gasses and wasted energy. With farmers coming from so far afield it is also a good shop window for SAC."
The man with the job of providing sufficient grass for all the demonstrations - despite the late spring - was SAC's Farm Manager at Crichton, Hugh McClymont. He also had to find the overflow car parking space when the first large site got jam packed. Standing just behind the Knowledge Exchange Marquee where organisations like SAC, QMS or DairyCo and sponsors Ecosyl had their specialists on hand, Hugh gave Ken the background to the mobile slurry separator he uses and which was attracting attention.
"Slurry isn't waste," he said. "It is an important source of nutrients which we must use to maximum effect. Separating slurry into its liquid and solid components gives me far more control, and also allows better management of bagged fertiliser. This is especially important if, like us, you are in a Nitrate Vulnerable Zone and can be penalised for any pollution or waste."
Inside the marquee, on the SAC stand, was Beef and Sheep consultant Rhidian Jones. Like Dave Roberts he stressed to Ken that events like Scotgrass are not just for dairy farmers. Those with beef and sheep should also concentrate on making the best silage they could. While long winters, such as the one just passed, had proved the value of bulk and quantity in the pit, especially for cows, young stock need as nutritious a diet as possible and that means quality over quantity.
Rhidian reminded farmers of the forthcoming meetings planned for the grassland monitor farms.
Someone else with a message for farmers finally escaping from an endless and challenging winter was Chris Duller of DairyCo. He explained to Ken Rundle that while the spring had been almost a month late and grass growth slow, because of the cold northerly winds, farmers would be unwise to assume they could wait a month before making first cut silage. Waiting a few days was fine but very soon grass quality and nutritional value would drop. He urged farmers to get what they can now and then concentrate on maximising the opportunity of their second cut.

John Deere Dealers Complete Brake Test Training


Ben Spink and Case IH go the Distance for Kidney Research


Scotgrass 2010 Showcases Wide Range of Products