First Customer Takes Delivery of New McCormick MC130 Tractor
2010-05-20
Farming brothers David and John Roycroft became the first customers of the new joint venture between Julian Kearne's Hilton Machinery and Chris Evans Farm Services when they took delivery of their first new tractor in 10 years.
All yours! Julian Kearne of Hilton Machinery hands over the keys for the new McCormick MC130 tractor to David (centre) and John Roycroft.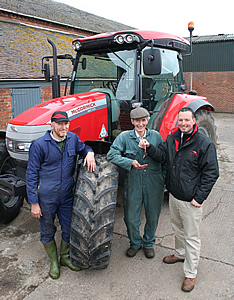 The 126hp McCormick MC130 will tackle a range of duties on their 285 acre farm near Market Drayton, Shropshire, replacing an elderly Case IH 1594 Hydra-Shift.
"It's a very smart tractor," says John Roycroft, who is clearly looking forward to driving the new machine. "It's got a four-speed powershift for the transmission, just like my old tractor, but of course it's a more modern design and the cab looks like a very comfortable place to spend a day's work."
The Roycroft brothers checked out two other leading makes before concluding the MC130 offered better performance potential for less money. They also welcome being able to buy the tractor from a business that already looks after their servicing and repair needs.
"I'm really pleased we have a fully operational tractor and machinery dealer in town again," says David Roycroft. "It's worth a lot having someone close by to call on for parts and workshop services."
The Roycroft family moved to the farm in the late 1930's as tenants and then David and John's father bought the property in 1959. They finish 50 beef cattle a year, grow wheat and barley on the arable land and currently milk 110 Holstein Friesian cows.
Optimistic that the dairy market will improve, they are in the process of expanding to 140 cows and switching to the Brown Swiss breed for its combination of milk yield and easy management. The first heifers were due to calve this spring.
The McCormick MC130 is set for a busy workload, mowing grass for silage, spreading fertiliser, using a power harrow-seed drill combination to sow the arable crops and handling the winter feeding routine.
"It's a relatively compact machine that's no bigger than the popular CX four-cylinder models but with more power and a higher standard specification," points out Julian Kearne. "As well as a proven Perkins engine, the tractor has load-sensing hydraulics, good implement lift capacity and a 16x12 transmission that can be upgraded with a creep gearbox, and a thumb-switch operated four-speed powershift."
Latest versions of the McCormick MC have a new four-post cabin giving a bigger glass area for improved all-round visibility; a roof window that lets in more light, increases headroom and is useful for loader work; better airflow from a new air conditioning and ventilation layout; and a new instrument panel.
Like all McCormick tractors delivered since the beginning of this year, the Roycroft's new MC130 is protected by the CESAR Datatag anti-theft scheme. The tractor is equipped with microchip transponders, microdots and chemical DNA that identify a unique registration number held on a security database.
Insurers, including NFU Mutual, discount insurance premiums for CESAR-protected tractors by 12.5%.
"We couldn't justify another brand new tractor but this one comes pretty close," says David. "I'm looking forward to getting behind the wheel."

Scotgrass 2010 Attracts the Crowds


John Deere Dealers Complete Brake Test Training


Ben Spink and Case IH go the Distance for Kidney Research