New Livery for Ladies In Pigs
2010-03-29
The van used by Ladies In Pigs (LIPs) for their work around the country has undergone a transformation. The van, brightly decked in Quality Standard Mark logos has been completely repainted to reflect the change to the Red Tractor logo, though the standards underpinning it all are unchanged.
LIPs chairman Sue Woodall in the van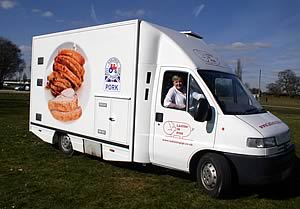 Pork that carries the Red Tractor logo has been sourced from assured pig farms and is independently audited for animal welfare, food safety and quality at every stage of the supply chain'
The ladies of LIPs can be seen at agricultural show and the like all around the country promoting Red Tractor pork by giving cookery demonstrations and tastings.
LIPs chairman Sue Woodall said: "The van has given sterling service but was starting to look a little tired after visiting hundreds of show over the years.
"The repaint with new logos and graphics has made a real difference and will, I'm sure, serve us very well for many years to come."
Look out for LIPs and the van at:
Thurs 8th April - Countrytastic Schools Malvern
Thurs 15th April - Norfolk Spring Fling
Tuesday 20th April - AGM - Harper Adams Shropshire
Weds 21st April - Suffolk Education day
Fri 23rd April - St Georges field Wolverhampton
Sat 1st May - Leyburn Food Festival Yorkshire
Sun 2nd May - Leyburn Food Festival Yorkshire
Mon 3rd May - Leyburn Food Festival Yorkshire
Sat 8th May - Newark and Notts Show
Sunday 9th May - Newark and Notts Show
Tues 11th May - Pig fair Stoneleigh
Weds 12th May - Pig fair Stoneleigh
Thurs 20th May - Devon County Show Exeter
Friday 21st May - Devon County Show Exeter
Sat 22nd May - Devon County Show Exeter
Sat 29th May - Hertfordshire Show
Sunday 30th May - Hertfordshire Show
Weds 2nd June - Royal Bath and West
Thurs 3rd June - Royal Bath and West
Fri 4th June - Royal Bath and West
Sat 5th June - Royal Bath and West
Thurs 10th June - Royal Cornwall Wadebridge
Friday 11th June - Royal Cornwall Wadebridge
Sat 12th June - Royal Cornwall Wadebridge
Tues 15th June - Yorkshire schools day Harrogate
Weds 16th June - Yorkshire schools day Harrogate
Fri 18th June - Three Counties Show Malvern
sat 19th June - Three Counties Show Malvern
Sun20th June - Three Counties Show Malvern
Weds 23rd June - Lincolnshire Show
Thurs 24th June - Lincolnshire Show
Sat 26th June - East Anglia Farm shop
Weds 30th June - Royal Norfolk
Thurs 1st July - Royal Norfolk
Sat 10th July - Tendring Show, Essex.
Tues 13th July - Great Yorkshire Show Harrogate
Weds 14th July - Great Yorkshire Show Harrogate
Thurs 15th July - Great Yorkshire Show Harrogate
Sun 18th July - Malton Show
Weds 21st July - Driffield show
Sun 25th July - Huby and Sutton Yorkshire
Tues 27th July - New Forest and Hampshire
Weds 28th July - New Forest and Hampshire
Thurs 29th July - New Forest and Hampshire
Weds 4th Aug - Bakewell Show
Thurs 5th Aug - Bakewell Show
Sat 7th Aug - Tockwith Show Yorkshire
Sat 14 th Aug - Halifax Show
Fri 20th Aug - Hatfield Country Show
Sat 21rd Aug - Hatfield Country Show
Sun 22th Aug - Hatfield Country Show
Sat 11th Sept - Essex Country Show
Sun 12th Sept - Essex Country Show
Sat 18th Sept - Berkshire and Newbury Show
Sun 19th Sept - Berkshire and Newbury Show
Fri 24th Sept - Nantwich food Festival
Sat 25th Sept - Nantwich food Festival
Sun 26th Sept - Nantwich food Festival
Sat 2nd Oct - Melton Mowbray Food Festival
Sun 3rd Oct - Melton Mowbray Food Festival
Sat 23rd Oct - Southwell Apple Day Nottingham
Sat 30th Oct - Countryside Live Harrogate
Sun 31st oct - Countryside Live Harrogate
Sat 27th Nov - Lincolnshire Food Festival Lincoln
Sun 28th Nov - Lincolnshire Food Festival Lincoln

SAC Expertise Adding Value to Marks & Spencer Food Business


SAC Support for Farmersí Markets in Scotland


Teaching Young Farmers Old Tricks