Teaching Young Farmers Old Tricks
2010-03-10
This week, thanks to a partnership between The North Northumberland Agricultural Training Association (NNATA) and LandSkills North East, as part of the Rural Development Programme for England (RDPE), arable farming in North Northumberland has received an injection of youthful enthusiasm for their unique Arable Traineeship.
The new entrants with NNATA Project Manager
Viv Cockburn, far right.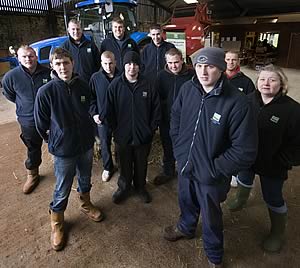 This is the first arable traineeship of its kind in the UK and its key objective is to counteract the huge decline in young people working in agriculture. This has been achieved, new blood has been attracted into the industry and now ten unemployed young people are back into training and employment. For the next twelve months they will complete hands on practical training programme with local arable businesses resulting in a Level 2 Diploma in Work Based Agriculture.
LandSkills North East, which is managed by Lantra Sector Skills Council on behalf of One North East, is funding 85% of the project and the host farms and businesses will contribute towards off-site training.
The entrants, aged between 17-24, come from a diverse range of backgrounds and are all new to UK arable farming. They include former chef, former builder and former locksmith. There are two international trainees, Julian Gips who has come from a farm in New Mexico and Alon Broadhurst who previously worked on an Israeli kibbutz. With the UK Agricultural Industry needing 60,000 new entrants over the next ten years it is hoped that they and all their fellow entrants will become part of its future.
LandSkills North East Project Manager, Peter Nailon explains; "LandSkills North East is right behind the NNATA arable traineeship as well as the upland livestock forestry traineeships operating in this region. It is essential that we develop the right training and career opportunities to attract and retain people in farming and forestry."
All of the applicants were assessed on a personal one to one basis as to their suitability for farming, in terms of their approach, attitude and aptitude. Previous experience wasn't necessary; however enthusiasm, a positive personality and the potential to learn practical skills were vital, as Project Manager Viv Cockburn explains: "My belief is that there is no better form of training than hands on learning. At one time, traineeships like this were common; it is a tried and tested method. Many skilled people in our rural communities are nearing retiring age and if we don't find a way of passing on their knowledge it will disappear.
The programme is intense and will involve a lot of hard work but we hope that all of the trainees will find it rewarding. The more they put into it the more they will optimise their chances of securing a full time job at the end of it."
During their year's training, entrants who are employed by the NNATA will learn all aspects of crop management from planting, cultivation and harvesting, through to the storage and transportation. This will also learn complementary skills such road and vehicle awareness, habitat management and health and safety for both themselves and visitors to the farm. Off site courses will include forklift training, machine maintenance, workshop skills, first aid, vermin control, spray training and tractor driving.
Richard Macallister of one of the host farms Percy Farms explains "Our industry has a finite resource of skilled, enthusiastic labour and generally farmers require new staff, be it full time or harvest help, to have sound experience in all of the basics. It is very difficult for a youngster, particular one from a non-farming background, to gain this experience on a modern farm that now have smaller workforces, larger more sophisticated equipment and, as a result, greater time pressures."
"The new apprenticeship scheme gives a great opportunity to gain this experience in a structured manner with independent training and mentoring. This training is spread over a timescale that builds up the student's knowledge and confidence in preparation for the busy harvest months and provides the potential of full-time employment within the farming sector."
The broad experience of the ten new entrants demonstrates that agriculture is a potential career for a wide range of people. Many will be adapting previous skills to farm life. Martin Riley who will be working at Murton Farm near Berwick will show farmer Mr David Armstrong and fellow entrant Graham Hepburn how he can adapt his building skills.
In a move from cooking food to growing food, Tom Sim will be working for Percy Farms on Northumberland Estates under the supervision of Richard Macallister, Jamie Wright who is working at Whitton Hill near Berwick upon Tweed with John Fairbairn is hoping his family roots will come in useful, his grandfather was once Chairman of engineering company, Citnage Tractors.
They will be joined by the two candidates whom bring experience of international agriculture to their new roles. Julian Gips who will be working with host farmer David Cairns at MSP in Berwick has some experience of farming in New Mexico and fellow entrant Alon Broadhurst who is working at Broomhill with farmer Julian Thompson has lived and worked in Israel and farmed within the Kibbutz.
Scott Gibson who will work with host farmer Ian Jackson at Bowsden; Neil Harkness who is working at the Lilburn Estate with Ray Field and Ted Meikle, James Cockburn who will work at Galagate with Bruce Martin and Ross Thompson who is working with Mr John Lang at East Learmouth near Cornhill make up the rest of the first intake.
Throughout the year, entrants will each build a portfolio of their qualifications and training with references and comments from NNATA instructors. This summary of achievement can be presented to potential future employers to demonstrate a level of competence and real experience in the industry. The first scheme was very oversubscribed and many farmers are already urging us to expand the scheme," says Viv "so hopefully we will be able to offer further training in the future."

Land Agent Julie Attends Keynote Agricultural Course


A New Farm Shop – Eggsactly What Belford Needs


Farmers Find Their Silver Lining