2010-02-12
A young Welsh food company majoring on cutting the carbon footprint and reinforcing the link with homegrown quality ingredients has enlisted the help of a New York chef to celebrate the Chinese New year.
Calon Lan Oil No.1 Camelina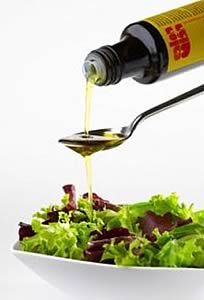 Anglesey based Calon Lan Director Geraint Hughes feels that his Camelina oil, which increasingly rivals olive oil and rapeseed oil in some of the best places in the UK and beyond was ideally suited to oriental dishes. And with the Year of the Tiger in mind he asked Rachel Sutherland who is currently cooking for New York Fashion Week to lend a hand.
She says: "I've adapted a traditional dish to create Tiger Prawn Mojo de Ajo because the camelina oil is so perfect for it. Its higher smoke point makes it easy to flavour in ways that also make the most of its own delicately nutty taste.
"You could totally theme it with Tiger Prawns, although in the UK I would I would recommend specifying wild caught shrimp, which for Tiger Prawns means frozen. Mojo de Ajo means simply 'sauce of garlic' in Spanish, and this Mexican way of cooking prawns is more than the sum of its parts.
"Then there is an Asian-style stripy, spicy cucumber salad, which is served warm. It's the perfect opportunity to use a mandoline, if you have one, but you can make it just as well with a knife and a little patience, and the spice and sweetness can be adjusted to taste.
"You can adjust the number of chilis and the amount of icing sugar to taste. Both dishes are healthy and delicious made with the camelina oil and absolutely perfect for celebrating Chinese New Year wherever you are."
Camelina is becoming widely recognised as a wonder oil that can help to reduce cholesterol and bring environmental benefits. It's one of a range of oils produced by Calon Lan and is produced in Wales from a crop grown here, so reducing food miles and the carbon footprint.
The oil is increasingly sought after as the tasty, health giving, carbon friendly alternative for the discerning. It is pressed from a plant known as Gold of Pleasure, is full of flavour and evokes resonances of its home environment, the wide, wild meadows of Scandinavia.
The oil brings a rich, nutty flavour, with notes of garlic and freshness when drizzled on salads, rice and potatoes. And the pleasure is not just guilt free, the oil has truly golden virtues!
Camelina Oil contains natural antioxidants, is naturally rich in omega-3, with three times more than in rapeseed oil and less saturated fats than olive oil. It's also high in Vitamin E.
Another big plus is that the Camelina plant thrives in mild winters and warm maritime summers and needs little in the way of fertilisers and pesticides. So it's ideal to grow in Wales, where many mainstream crops won't flourish and it's also easy on the eye, gracing the landscape with a gentle touch of gold, and reducing food miles. .
All the Camelina seeds used for Calon Lan are free from genetic modification and the oil is suitable for vegetarians and vegans. Cold-pressing in the UK under ISO9002 standards protects the oil from destructive high temperatures that allows Calon Lân to sell all the natural goodness intact.

Enterprising 'Fodder' Wins Top Award from Countryside Alliance


DEFRA Vision for British Farms is a Mixed Bag - Food 2030


LEAF Welcomes Food 2030