2010-01-20
Fodder, the flagship food shop and cafe set up and championed by the Yorkshire Agricultural Society is celebrating another major award win named best Yorkshire Enterprise by the Countryside Alliance, just 6 months after opening.
Harrogate's Flagship Food Hall heads to
the House of Commons for National Final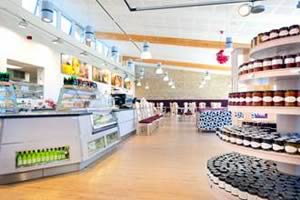 Fodder's aim is to inject new life into the rural economy and support the region's farmers and producers, while offering consumers the best food and drink from the region. The unique shop and café is housed in an environmentally friendly building, the most sustainably built building in the North of England, where even the shopping trolleys are made from recycled plastic.

Local food is at the heart of Fodder with 85% of the food sold and served from Yorkshire and the Humber. Over 180 local producers and farmers supply Fodder offering a new route to market for the region's farmers and producers.
Managing director Heather Parry said, "I really was stunned to win after just being open six months, but our commitment to local produce and the environmentally friendly ethos of Fodder really seem to have struck a chord. Credit must go to the wonderful farmers and producers whose hard work and enthusiasm is infectious."
Fodder stocks everything from everyday basics like locally grown oats, fresh fruit and vegetables, free range eggs (reliably cheaper than the local supermarket) to meat from a variety of small scale farmers in the region, artisan baked bread and they even stock wine from Leventhorpe Vineyards near Leeds and a potent cider made the monks of Ampleforth Abbey.
Fodder came first out of thousands who entered the competition, organised by the Countryside Alliance in conjunction with Farmers Guardian and the Daily Telegraph and now have a shot at the National Title which will be announced at the House of Lords in February.
Managing director Heather Parry concludes, "This a great win for Fodder, but the real winner today is local produce. Buying local not only supports the regional economy, it reduces food miles and offers fresher, tastier, honest food."

DEFRA Vision for British Farms is a Mixed Bag - Food 2030


LEAF Welcomes Food 2030


Union Welcomes Commitment to Food and Farming