2010-01-14
'Food 2030' sets out the government's objectives for industries related to food supply and the underlying message is simple "Expect change".
Guy Sampson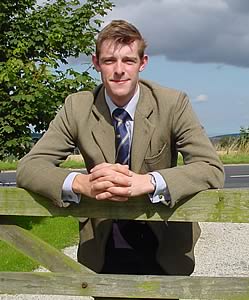 Landowners can expect some major developments as the result of Defra's vision for the next two decades of UK food production announced at last week's Oxford Farming Conference. "It is encouraging that the government are giving such importance to this issue and while some proposals will create opportunities, others could have adverse effects on the industry if not properly managed," says Guy Sampson of rural specialists George F. White.
The report aims to inform producers how the government expects them to continue providing food in the contexts of population growth, increasing demand and climate change. Consequently it contains a number of messages of particular relevance to the agricultural sector. Farmers will be expected to become more competitive, to make better use of resources and to explore new crop varieties and 'green' technologies.
Guy continues: 'Whilst it is encouraging to see that the current government are recognising the importance of food production, they need to allow supply and demand forces to be the principal driving factor of food production. Environmental legislation is bound to get tighter and more stringent, particularly if subsidies do disappear and there is no 'stick' to beat farmers with!
"We welcome the emphasis given to renewable energy, something which we believe represents an interesting and lucrative opportunity for farmers and landowners. However, more worrying is the view held by some in government that a reduction in red meat production will supply a panacea for our environmental problems. If this attitude is not to become a damaging driver of policy in the future, concerted effort is needed from the agricultural industry to represent the tremendous benefits provided by the UK livestock sector whilst actively seeking ways to reduce its environmental impact."
The key factors in 'Food 2030' which Guy has highlighted as having a direct impact on agriculture are:
Food production must increase to feed a growing population.
Agriculture will be expected to become more competitive and responsive to national and global markets. Ultimately this should result in British agriculture being more profitable and innovative.
CAP reform: the current government envisages that there will be no subsidies by 2030 and all export subsidies will be eliminated by 2013.
In the years leading to 2030, farmers will only be subsidised for producing 'societal benefits' (particularly environmental). Where possible, environmental benefits will be achieved through cooperation rather than regulation.
Inputs and waste will need to be reduced. Farmers will be encouraged to make better use of things like farmyard manure rather than chemical fertilisers.
Farmers' markets and regional speciality foods will continue to be encouraged.
Anaerobic digestion will be promoted as a good use of waste and a sustainable power supply. Farmers should also be prepared to grow bio-fuels for renewable energy production.
Farmers should be willing to embrace new crops, either to increase food production or to mitigate the effects of climate change. Research into GM technologies will increase. Reading between the lines, we can expect promotion of GM crops in the future.
More concerning is the suggestion that UK consumers may be encouraged to reduce their red meat consumption for reasons of health and to reduce greenhouse gas emissions. This message is strongly implied within the strategy and comes shortly after the remarks by the government's leading climate advisor Lord Stern that a vegetarian diet is much better for the environment.

Anyone requiring advice on how they will be affected by this report, can contact Guy Sampson at George F. White on Tel. 01665 603 231.
George F. White has offices in Alnwick and Tyne Valley in Northumberland, Wolsingham and Barnard Castle in County Durham, Bedale in North Yorkshire and Park Lane in London www.georgefwhite.co.uk.

LEAF Welcomes Food 2030


Union Welcomes Commitment to Food and Farming


Call for Europe to Adopt Clearer Food Labelling