John Deere Sprayer Developments for 2010
2010-01-06
John Deere's technology leadership in the sprayer business has once again been recognised, with the award of a DLG silver medal at the Agritechnica 2009 show in Hannover, Germany.
John Deere 5430i self-propelled sprayer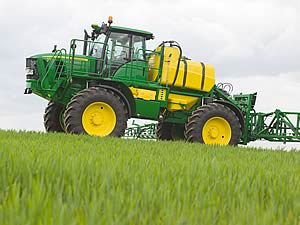 It was given to the extension of iSolutions from the 5430i self-propelled sprayer to 700i and 800i Series trailed sprayers. This includes the integration of a new tank fill calculator, which will be tested in the UK this summer, as well as the advanced SprayerPro automatic boom section control system, and the unique AutoDilute rinsing system for handling the appropriate dilution of residual liquid in the sprayer.
The award judges praised John Deere's iSolutions for reducing the potential for operator error and environmental pollution, as well as providing faster and more precise tank filling, rinsing and spraying.
BoomTrac on 700i Series trailed sprayer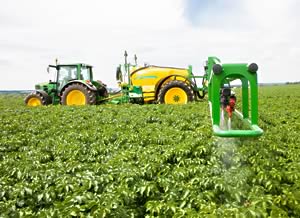 Other new developments on John Deere sprayers for 2010 include the availability of BoomTrac automatic boom height and tilt control on 700i Series trailed sprayers for the first time. First introduced on the 800 Series range in 2005, BoomTrac is designed to increase spray accuracy, operator comfort and productivity.
In addition, a new 36/24/18m boom will be available to add extra versatility to the 5430i self-propelled sprayer. This boom is designed for contractors or farmers who need to adjust spraying width to different row spacings or tramline widths.
Also available for the 5430i in 2010 is a new optional 'hill climber' drivetrain, which comprises larger rear wheel motors and lower geared rear final drives. This option enables the sprayer to scale slopes up to a market leading 29 degrees.

Free Sheep EID Guide Available from Ritchey


New McCormick Trader Website Finds Dealers and Equipment


Pesticide Filling System Cleans Containers More Efficiently