New McCormick Trader Website Finds Dealers and Equipment
2009-12-23
Farmers wanting to track down new or used equipment have a new resource available to them in the shape of an all-new McCormick Trader website.
.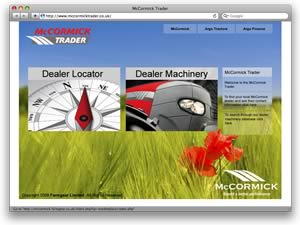 Developed originally to showcase just used McCormick tractors held in dealers' stock, the newly-designed McCormick Trader website can now be used by McCormick dealers to advertise any machinery of any make.

"We wanted to broaden the scope of McCormick Trader so that farmers and contractors who visit the site have a bigger selection of tractors and machinery available to them," explains Ray Spinks, general manager at McCormick distributor AgriArgo UK. "It makes it a more useful resource for farmers but also helps our dealers by giving them another outlet to advertise their McCormick stock, as well as their current selection of used equipment."

The illustrated 'classified adverts' can be listed by dealer name, machine type or machine make or model, and there are click-and-go links to the most popular machinery categories.

Another helpful feature is the new Dealer Locator, which farmers can use to find their nearest McCormick tractor dealer, either by entering their own postcode or county, or by keying in the name of a dealer. The website then displays full contact and location details.

"We've appointed a dozen or more new dealers over the past 18 months and I daresay some farmers haven't realised they have a McCormick outlet in their area," says Mr Spinks. "Now, they'll be able to check who is closest for new tractor sales, service and repairs and parts supply."

The new website also provides links to the McCormick product website, which gives full feature and specification details of the tractor and telescopic handler range.

Pesticide Filling System Cleans Containers More Efficiently


Claas Announce Engineering Scholarship Winner


Claas Performs Well in Difficult Conditions