Free Sheep EID Guide Available from Ritchey
2009-12-28
A leading manufacturer and supplier of products to the agricultural, equine and pet market has produced a free guide, designed to simplify the new rules surrounding electronic identification (EID) for sheep keepers.
Ritchey Autotagger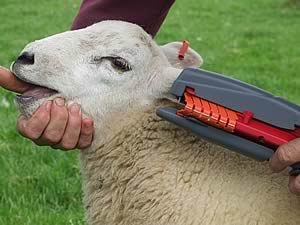 The credit card-sized, fold-out guide has been put together by Ritchey's tagging specialist, (Mrs) Linda Simms. The information has been simplified using a flow chart, allowing producers to select sheep at varying stages of production, and pick out the relevant rules that will apply. The new legislation comes into force on December 31, 2009.
"We understand that farmers are busy people, and appreciate that some of the new rules appear highly complex," says Mrs Simms. "We wanted to find a way of making the information easy to understand, and a flow chart seemed the best way to achieve our goal."
The Ritchey guide indicates when EID tags are needed, and outlines the identification procedures required when a sheep is moved from its holding of birth, for example, she adds.
To locate the guide on the Ritchey website, go to www.ritchey.co.uk, click on 'advice centre' at the bottom of the page, then go to 'legislation advice.' The web page also carries a written explanation of the rules, set out in FAQ (frequently asked questions) format.
Producers who are not familiar with using websites and who would like a copy of the guide should enquire at their local agricultural merchants. An A4 version can be obtained by sending a stamped addressed envelope, marked 'EID flowchart request' to the Ritchey headquarters at Fearby Road, Masham, Ripon, North Yorkshire, HG4 4ES.

New McCormick Trader Website Finds Dealers and Equipment


Pesticide Filling System Cleans Containers More Efficiently


Claas Announce Engineering Scholarship Winner