Pesticide Filling System Cleans Containers More Efficiently
2009-12-22
Many more sprayer operators will spend less time rinsing pesticide containers following the installation of a new can wash nozzle in the industry's most popular sprayer filling device.
Hypro EU ProClean nozzle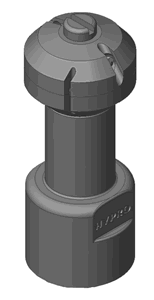 The ProClean nozzle produced by Hypro EU at its Longstanton factory near Cambridge has already won praise from sprayer operators given early production models to try for its speed, thoroughness and water economy.
Now, Watson & Brookman, which supplies most of the induction hoppers fitted to new British-built crop sprayers, has decided to install the device as standard.
"It's an impressive design and definitely an advance in several respects on previous nozzles of this type," says Tim Watson. "It's stronger and more durable, so should be more reliable in service, and it certainly appears to be very effective at shifting the most stubborn chemical residues in a pesticide container."
The need for an improved rinsing nozzle was first flagged up by sprayer operators who felt that 'triple rinsing' pesticide containers took too long and used too much of a sprayer's limited clean water supply.
"We discovered that some operators can spend a minute or more rinsing out each container," explains Roger James, Hypro EU product manager. "With as many as 20 containers needed to fill a big sprayer, the rinsing process significantly reduces the amount of time available for actually spraying."
Studies to determine the water flow, pressure, distribution and impact needed to clean the inside of a pesticide container faster and more effectively led to the new ProClean design. This purpose-built water-driven rotating nozzle has different-shaped outlets around the head to produce the cleaning effect required and ensure water is sent into all the nooks and crannies – around the neck and any handle moulding, for example.
"Comparative tests with other nozzles cleaning a 5-litre container showed the ProClean doing the job in half the time, using up to half the amount of water," says Roger James. "It also works well on all container sizes, which means operators can rinse containers thoroughly and spend more of their time spraying."
Watson & Brookman's seal of approval is based on the build and technical characteristics of the ProClean design.
"We wanted a more durable nozzle to give longer, more reliable service and one that would continue to work even when subjected to high water pressure," says Clive Brookman. "The ProClean meets those criteria and more – we've supplied probably 300 nozzles in our chemical induction hoppers and haven't had a single one back."
The ProClean's strong spindle will allow Watson & Brookman to develop a new feature for its chemical induction hopper – a spiked lid that can be used as a container drip tray.
"Operators will be able to close the lid and rinse the underside simply by pushing it down on the nozzle to open the can wash valve," explains Mr Brookman. "That's not possible with previous nozzles we've used."
In the meantime, sprayer operators can replace worn, damaged or outmoded chemical induction hoppers with one of Watson & Brookman's 15-litre, 25-litre or 35-litre stainless steel units and get the same chemical filling and container rinsing efficiencies as operators with a new sprayer.
"Replacing an induction hopper isn't a difficult job as long as we're given full details of the current installation and plumbing layout," says Tim Watson. "Then we can supply a new one, complete with the ProClean nozzle, with the correct inlet/outlet configuration and advise on water pressures, etc."
Operators with any make of serviceable induction hopper can also improve container rinsing performance by switching to the Hypro ProClean. Its ½in BSP thread fits many existing can wash valve couplings and thread adaptors and push rings are available if needed. The ProClean nozzle retails for £30.42 from sprayer accessory dealers.

Claas Announce Engineering Scholarship Winner


Claas Performs Well in Difficult Conditions


Festival of Farming - Brand New Vintage Ploughing Event for 2010