2010-01-19
Winter hardiness is something UK oilseed rape growers need to think far more about as they endure their second particularly harsh winter in a row, believes a leading Scottish adviser.
And they have much to learn in this respect from their Scandinavian counterparts who, of necessity, continue to prioritise it above all other characteristics in OSR variety choice and management.
"Last season we saw major differences in the success with which northern crops coped with persistent frosts and temperatures down to -5oC," reports CSC Crop Care technical director, Jim Rennie. "But by mid-January this year we'd already seen as many days below 0oC as we did in the whole of the 2008/9 winter together with readings of -12 oC on occasion. So our crops will undoubtedly have been put to an even greater test this time around.
"All the more so for the fact that most went into the winter far better established and lusher than the previous year. This season should really sort out the men from the boysin winter hardiness as much as establishment vigour.
"Last season we saw first hand the tremendous ability of oilseed rape in general and more vigorous varieties in particular to recover from a very difficult autumn and winter," he points out. "This highlighted the value of varieties like Excalibur amongst the hybrids and Catana as a pure line vigorous enough to get their feet down rapidly and sufficiently robust to withstand persistent cold.
"In contrast, a number of other hybrids and pure lines really suffered. And although we were generally able to harvest more than we would have done from spring rape it was at the expense of 40-50 kg extra nitrogen to ensure the Green Area Index targets were met.
"So a good level of winter hardiness is likely to pay particular dividends this year. All the more so in preventing whole areas of crops in major frost pockets being completely wiped; something no amount of compensatory growth elsewhere in the field can hope to redress."
"Across our whole Masstock SMART Farming network the extensive plant and leaf survival records we are keeping on commercial and demonstration crops alike will give us the best possible handle on both varietal and agronomic differences from which to advise our growers."
At the same time, Jim Rennie advises UK growers to explore how specific varieties perform in testing countries like Sweden where sufficient winter hardiness is a fundamental winter OSR requirement.
Across 16 varieties in official Swedish trials from 2004-2008 the average winter kill was 20%, with the best varieties suffering just 5% and 15% kill respectively; less than half that of the worst variety at 30%.
In individual winters like 2007 the average kill across trials was nearly 30% and the range far wider – from just 9% with the best variety to 56% with the worst. And at one specific site in 2007 the average kill reached 53% and the range was greater still – from 15% to 78%.
"Swedish experience suggests low biomass hybrids like DK Secure suffer lower levels of winter kill than more upright types – including less prostrate semi-dwarf varieties," observes Jim Rennie. "It also confirms Excalibur as particularly hardy (Figure 1).
Figure 1: Winter hardiness of all UK varieties tested in Sweden 2004-2008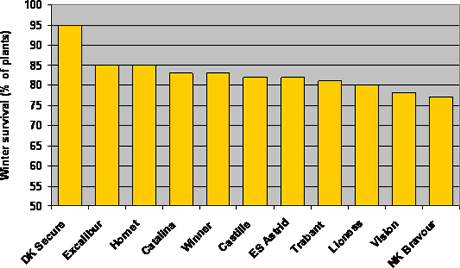 "Thankfully, our maritime climate insulates us from the more extreme effects of winter cold. But as growers across the country are coming to realise after yet another decidedly arctic winter, both leaf and plant losses can be very considerable indeed. Which means either higher seed rates, more spring nitrogen or both to secure the consistent performance we need.
"With our seasons as variable and stressful as they appear to be becoming a good level of winter hardiness is something many UK growers are likely to find increasingly important. In this respect, we have much to gain from varieties bred and proven to perform across a far wider range of climatic conditions than previously assumed."

Optic Distilling Barley Celebrates 15 years on Recommended List


SAC/HGCA Spring Programme for Growers of Grain and Oilseeds


BASIS Appoints Karl Bahn as New Technical Manager