2010-01-07
Last January it was the problems caused by a string of mild winters, this year the questions at the latest series of SAC/HGCA workshops are likely to be about coping with the aftermath of the coldest winter in decades.
Spring barley plots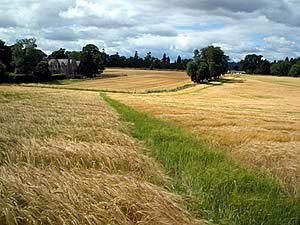 Once again change is the order of the day for anyone growing or breeding new varieties of cereals and oilseeds.
SAC experts will be working with the body supporting research and knowledge transfer to the combinable crops sector (HGCA) at three events planned to help Scottish growers explore the future for their industry. In workshops at Carfraemill (12th Jan), Dewars Conference Centre (14th Jan) and the Thainstone House Hotel (19th Jan), they will focus on the latest crop research, much of it funded by the Scottish Government, as well as issues surrounding soil management, market volatility and the challenges of climate change. Farmers have made their own contributions to new ideas through Scotlandís ďMonitor FarmĒ programme and lessons learned there will also be detailed.
Nevertheless, it is the winter chill that is bound to stimulate additional discussion amongst researchers, agronomists and growers. Is it a sign of changing weather patterns that may make the latest work done to tackle the problems of mild winters redundant? What changes might it make to variety choices? In his address, SACís Steve Hoad will emphasise that, as usual, the key will be robustness and the ability to cope with seasonal and site variations.
However, Dr Hoad will also pose other key questions about the future of Scottish grain production. He will ask what role Scotlandís cereal producers might play in addressing issues of food supply for an expanding world population. Should they concentrate on supplying the mature, home market or, in addition, capitalise on the efforts breeders are making to raise yields? Should they grow surpluses for export and become world players?
The answers to many of these questions will be dependent on the efforts made in tackling climate change. As SAC soils scientists Drs Bruce Ball and Bob Rees will explain, emissions from soil are responsible for about half of agricultureís contribution to global warming in the UK. It is clear farmers will have to make efforts to control emissions of nitrous oxide, methane and carbon dioxide which will mean changes to the way they farm and manage their soils.
Along similar lines, questions surrounding the efficiency of nitrogen use by crops will be addressed by Dr Ian Bingham of SAC. He will describe some of the Scottish Government-funded research being carried out by SAC in collaboration with SCRI to identify targets for crop improvement. The effects of canopy structure on the ability of barley crops to avoid and tolerate disease are being investigated along with the use of elicitors to induce broad spectrum resistance against disease infection.
Once again the partnership between SACís Crop and Soil Systems research group, the Home-Grown Cereals Authority, the Scottish Government and Defra has produced a fascinating mix of issues and items which will be invaluable to arable farmers and their advisers.
Programme
09:15 Registration and refreshments.
09:35 Chairman's welcome.
09:40 Outlook - global markets.
10:10 Arable monitor farms - outcomes and lessons learned.
10:40 Cereal and oilseed varieties.
11:10 Refreshments.
11:30 Looking ahead - developments in crops.
12:00 Barley disease management - priorities for the current season.
12:30 Wheat and oilseed disease management - priorities for the current season.
13:00 Lunch.
14:00 Looking ahead - new problems, new opportunities, new research?
14:45 Weed management in light of changes in legislation and climate.
15:15 Soil management - responding to current and future needs.
15:45 Workshop close.

BASIS Appoints Karl Bahn as New Technical Manager


Early Rust Infections Appearing, Wheat Growers Warned


Kylie Scoops Coveted Barrie Orme Award