2009-11-30
Kylie Borchardt from Langmead Farms made a little bit of history on 20 November when she became the first female candidate to win the coveted Barrie Orme Award.
Kylie Borchardt receives her certificate
from Lord Davies.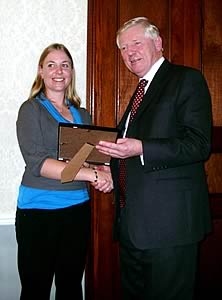 Now in its ninth year the Award recognises excellence in plant protection and is presented annually to the best candidate in the BASIS Crop Protection Certificate exams.
The certificate and trophy were presented by Defra Parliamentary Under Secretary of State, Lord Bryan Davies of Oldham, at a ceremony in London. Congratulating Kylie on her achievement Lord Davies also thanked BASIS and the industry organisations which sit on the BASIS board for providing factual information to government on the pesticide industry. He reminded his audience that pesticides are a subject on which government is regularly challenged.
Runners up were Vicky Brooks an agronomist with UAP in North Essex and Nic Drever-Smith who farms 142ha of combinable crops near York. The Awards are generously sponsored by the Agricultural Industries Confederation (AIC), C & J Supplies and Nufarm UK Ltd.
Australian Kylie is Baby Leaf Agronomist for Langmead Farms Limited, one of the most successful wholehead and baby leaf salad growers in Europe supplying the major supermarkets. Based in West Sussex, Langmead also has operations in Kent and, to maintain a 365 days a year supply, the family-owned business also farms in South East Spain. Kylie's responsibilities include crop walking, the spray programme, irrigation and Assured Produce Audit as well as evaluating new baby-leaf varieties and reviewing crop protection strategies.
Kylie's parents run a sheep and wheat farm in Queensland and she holds a degree in agriculture from the University of New England, New South Wales. Before coming to the UK in 2005 she also gained experience in cotton growing.
Training was provided by David Godsmark who also trained the 2006 Award winner.
"The BASIS training was an excellent way for me to get up to speed with English pesticide law," explained Kylie. "The training provided by David and his colleague Ian Gillott was excellent. Our small group included people with different backgrounds and experience and we all helped each other," she added.
The best crop protection candidate 2009, Kylie Borchardt, with BASIS Managing Director Rob Simpson (left) and Chairman Ian Smith.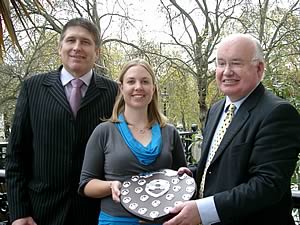 The BASIS Crop Protection Certificate is a tough challenge. Kylie's group completed two week long blocks of lectures held in the quieter winter months. In addition to the written exam and a nerve wracking oral examination, each candidate also prepared a BASIS project report which is a key part of the assessment process.
Kylie selected Wild Rocket Herbicide Choices as the topic for her project and conducted crop safety trials with a wide range of approved chemicals. Unfortunately the only products which proved to be crop safe were those which are about to lose their approvals under new EU regulations. This led her to conclude that the only option was to go back to soil sterilisation.
"The loss of chemicals, particularly herbicides due to EU regulations is a real problem for specialist crops like ours. From next season we are going to have to resort to established techniques involving soil sterilisation and fumigation which, in my view, are far more damaging to the soil and the environment than the herbicides we have been using."
The BASIS Certificate was originally developed as a qualification for crop protection advisers. Indeed, the Certificate is still a legal requirement for those who advise and supply farmers and growers with pesticides. Over the years however it has become a popular qualification among others who work in agriculture and horticulture.
BASIS Managing Director Rob Simpson commented, "It is very encouraging to see talented young people like Kylie doing so well in the BASIS exam. The standard people have to meet to achieve the BASIS qualification is deliberately set high because the risks from poor plant protection decisions are so great. Poor decisions can damage crops, harm the environment and harm the reputation of the whole industry," he suggests.
In total, over 7,000 people have passed the exam for the BASIS Certificate in Crop Protection and there are now around 4,000 people showing their ongoing commitment to Continuing Professional Development by signing up to the BASIS Professional Register.

Advanced Oilseeds Need Careful Management to Safeguard Yield


£1M Cash Boost for Northumberland Grain Co-Operative Store


One North East Goes With The Grain