Keighleys Dominate Again at Skipton Winter Texel Highlight
2009-12-09
Northern Area Texel Sheep Breeders' chairman Mark Keighley and his wife Helen maintained their dominance of the society's winter pedigree event, the 17th annual show and sale of in-lamb females at Skipton Auction Mart. (Sat, Dec 5)

Mark Keighley with his 2009 Skipton Winter Texel supreme champion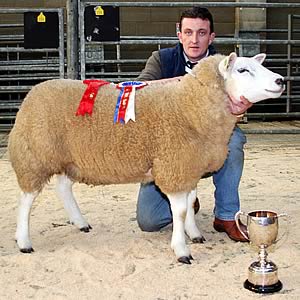 The Keighleys, whose prolific Manderlea flock is based at the family farm in Leathley, Otley, secured the supreme championship for an unprecedented fourth time in five years. Though missing out in 2007, they were responsible for the reserve champion that year.

The well-known Wharfedale Texel breeders landed the 2009 title, courtesy of judge Ryan Bradley, of Salterforth, with a shearling daughter of Gib Farm Motorolo, acquired as a lamb from Calderdale Texel showman Spiros Spyrou, of Gib Farm, Hebden Bridge.

The dam is a daughter of Hellifield-based John Mellin's Hull House Freshman, much used and valued as a sire on the Manderlea flock, while the victor's great grandfather, Annan Goldsmith, sold as a lamb for 10,000 guineas and was champion at Lanark in 2000.

The Skipton title winner's great grand dam came from Simon and Audrey Taylor's Dearne House flock at Cumberworth, Huddersfield - Audrey is secretary of Northern Area Texel Sheep Breeders. It was one of the first ewes bought by the Keighleys as they began to build their renowned Texel holding.

In lamb to Heyworth Lodge Officer, top price ram lamb at Skipton's high profile breed show and sale in September last year when exhibited by Jennifer Lodge, of Moseley Grange, Moss, Doncaster, the victor sold for 800gns, top call in show, to West Yorkshire purchaser William Warren, of Cleckheaton.

For good measure, the Keighleys sent out the third prize shearling female, a daughter of Strathbogie Knock Out, and also in lamb to Heyworth Lodge Officer. She headed east when acquired by D Birkill, of Harpham, Driffield, for 530gns.

Jennifer Lodge herself figured among the leading honours when her March, 2008-born second prize shearling progressed to take reserve championship honours, clearly illustrating both depth and strength in this class.

The daughter of Haddo Neptune, purchased at Carlisle for 14,000gns, has been scanned in lamb to Kelso Pure Perfection, whose own sire Mellow Vale Officer has produced sons to 40,000gns. Pure Perfection's dam is by the 110,000gns Newhill Major. The reserve champion joined Jonathan Frankland, of Frankland Farms, Rathmell, for 520gns.

Also making the shortlist for championship honours was the first prize ewe from John and Alison North, whose Loxley Texel flock is based at Syke House, Goole. The March, 2006-born ewe is a daughter of Haramar Kilroy, acquired as a lamb by the Norths and a product of an Irish sire bred in Dungannon by Harper George.

Kilroy won the inter-breed championship at Masham Sheep Fair and the Skipton ewe victor followed in her father's footsteps when chosen as first prize ewe at Masham. Her mother landed the shearling gimmer class at Newark Show in 2005.

The Norths also presented the third prize ewe, another daughter of Haramar Kilroy and in lamb to Stonebridge Neo, who sold for 360gns to RN Kirby & Son, of Ainderby Steeple, Northallerton.

The same price was also achieved for the second prize ewe, a product of the Meinspride flock of Lancashire breeder Angela Nairey, of Bank Hey Farm, Liusey, Blackburn. The March, 2007, daughter of Douganhill Lucky Strike, expecting by Rusha Original, was also acquired by D Birkill.

In addition, Mrs Airey sold a shearling by Haltcliffe Jackpot, from one of Meinspride's best breeding lines, for 520gns to Keith Jones, of Arkengarthdale, Richmond. She is also in lamb to Rusha Original.

County Durham Texel man Doug Nesbitt, of T Nesbitt & Son, Winston, Darlington, successfully sold two shearling daughters of his home-bred Alwent Major Force, both in lamb to the 5,000gns Spotsman's Ocean, breed champion at the Clitheroe Texel 2008 fixture, whose own sire was best of breed at this year's Great Yorkshire Show.

The first up was knocked down at 480gns to local breeder Malcolm Campbell, of Arncliffe, while the second fared slightly better at 490gns when joining G Hartley, of Hickling, Norfolk.

Veteran campaigner Bert Verity, of Barrowby Grange Farm, Kirkby Overblow, Harrogate, sold what was the last of his five breeding sheep to a high of 480gns for a shearling daughter of Scos Mo Motivator, scanned for twins by Loxley Officer. The buyer was K Middleton, Horton-in-Ribblesdale.

Mark Keighley said afterwards: "There was good solid trade throughout, with buyers willing to pay for quality sheep, showing great confidence in the breed."

This resulted in a marked improvement on prices achieved at the corresponding 2008 fixture, with an overall average of £316.38 per head. A total of 60 shearlings averaged £324.45 (£219 in 2008), while 16 ewes sold to an average of £286.13 (£246 last year).

Craven Feather Auctions Christmas Show Produces New All-Time Record Price


Jimmy Baines Retains CCM Stock Person of the Year Title


Third Annual Sheep Auction to Raise Funds for Hospice