Skipton Sunday Prime Christmas Shows a Resounding Success
2009-12-03
A year of solid and uninterrupted trade reached its climax at Skipton Auction Mart when the annual Christmas prime livestock shows and sales were voted a resounding triumph by all involved. (Sun, Nov 29)
Richard Bamford, of Ingfield Farm Shop, buyer of the Skipton Christmas prime lamb champions, is pictured standing right with exhibitor James Garth and Craven Cattle Marts chairman Michael McKenzie, left. Kneeling with the title-winning lambs are, from left, Robert Garth, Kelly Armitage and Simon Garth.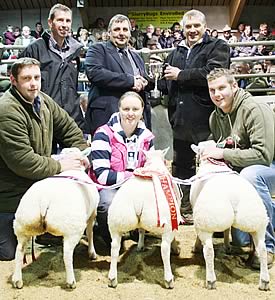 Staged successfully for the first time on a Sunday last year, the decision to bring the fixture forward by a week paid massive dividends as vendors, purchasers and the regional agricultural community turned out in their hundreds

Dubbed the Craven Lingfield Show, the event again replicated the atmosphere and sense of occasion of the former Smithfield Christmas Fatstock Show in London.

With a ten-strong line-up of butchers' classes in both the cattle and sheep sections – and pigs making an appearance at Skipton for the first time in around 15 years - the high profile fixture cemented its reputation as the region's premier event for butchers seeking to source quality, locally reared prime beef and lamb for Christmas, at the same time allowing them to meet farmers in person.

Additional retail interest and involvement was also created among the region's meat men and women with the staging of the first-ever 'Great Northern Pork Pie Fest,' a brand-new pie-making competition.

Lively bidding, resulting in outstanding trading levels and prices, notably for supreme champions, was the order of the day throughout.

Supreme and reserve championship honours in the prime beef classes were again fought out by the 2008 principals, with a reversal in roles at this year's renewal when Keith Downs, of Milner Field, Bingley, reserve supreme champion last year, returned to his title-winning form of both 2006 and 2007 by again exhibiting the overall victor.

His 500kg British Blue-cross bullock, also male champion, sold for the day's top price of £2,097 (419.5p/kg) to a frequent purchaser of Skipton prime beef and lamb title winners, Keelham Hall Farm Shop, at Thornton, Bradford.

Run by James and Victoria Robertshaw, Keelham's award-winning butchers shop, renowned for souring locally reared meats and supporting local farmers, has often acquired Skipton-sold prime beef from Mr Downs, including his 2008 reserve supreme champion and 2007 title winner.

Keelham Hall Farm Shop bought a total of nine beef cattle at the show, including Mr Downs' first prize 545kg Limousin bullock and reserve male champion for £1,635 (300p/kg), along with a 490kg British Blue-cross heifer from David Bamforth, of Wainstalls, Halifax, for £1,321 (269.5p/kg), awarded the trophy for the best beef animal purchased at Skipton Auction Mart.

The shop's Victoria Robertshaw: "Every week, we buy the best available Yorkshire beef from our local auction marts – therefore, it is only fitting that we should buy the champion at the Christmas show as it is the best available.

"Our keynote aim is to support local farmers wherever possible by purchasing their livestock, at the same time encouraging our customers to buy locally produced food to boost the local economy."

East Coast beef farmer William Timms, of Court House Farm, Goole, female and supreme beef champion in 2008, this year had to settle for reserve supreme honours with his first prize British Blue-cross heifer.

The runner-up was acquired by Tim and Lisa Metcalfe, of Town Bottom Farm, Clayton, Bradford, for £1,829 (369.5p/kg) and will be used for breeding purposes on their Towngate pedigree British Blue herd.

The prime lambs supreme championship was retained for the second consecutive year by James Garth & Son, of Birk Knott Farm, Keasden, Clapham.

Their victorious pen of three 38kg Beltex-cross-Texel lambs had earlier been chosen as first prize winners in the lightweight butchers' lambs class, lowland champions and recipients of the trophy for the best pen of lambs from a regular Craven Cattle Marts vendor.

They sold for £420 per head, top price in the sheep section by far, to Calderdale butcher Richard Bamford, who runs Ingfield Farm Shop at Southowram, Halifax, a regular buyer of both store and prime cattle at Skipton.

The reserve supreme lambs championship, again for the second year in succession, was awarded to Martin and Val Brown, of Beechwood House Farm, Newton-le-Willows, Bedale. Weighing in at 50kg and best of the heavy class entries, their charges were bought for £200 a head by Mike Allen, of Whitby, on behalf of a local hospitality sector client.

Back in the beef classes, Hayley Baines, of Trawden, exhibited the 1st prize any other breed class winner and reserve female champion, a 525kg Blonde d'Aquitaine-cross heifer that returned across the border when knocked down to Bowland Foods, of Preston.

Selling for £1,336 (254.5p/kilo) and one of eight prime cattle bought by the Lancashire meat wholesaler, the female reserve was purchased on behalf of Richard Cardwell, of R & J Cardwell Family Butchers, Hambleton, midway between Blackpool and Lancaster.

The trophy for the best-home bred beef animal was awarded to a 525kg British Blue-cross steer from Nidderdale's Don Leeming, of Ramsgill. It sold at £1,336 (254.5p/kg) to Paul Kendall for his butchers shop in nearby Pateley Bridge and was one of a trio of beef cattle purchased by Kendalls, which also has farm butchers outlet in Harrogate.

The first prize geld OTM British Blue cow from North Craven exhibitor Richard Maudsley, of Rathmell, weighed in at 820kg and sold for £1,181 (144p/kg) to Andrew Atkinson, Kettlesing, Harrogate.

For the third year running, the champion pen of hill and horned lambs came from David Verity, of J Verity & Sons, Grange Farm, Bouthwaite, Pateley Bridge. His 54kg trio will be on the menu at the Millstones Restaurant, Kettlesing, after being acquired at £95 a head on behalf of restaurant owner Andrew Ashby.

Roy Nelson, of C Nelson & Son, Bordley, continued his dominance of the Swaledale classes when his first prize and reserve hill champions 48kg pen was knocked down for £78 each to Saltaire butcher Richard Binns.

Brian Lund, of Walshaw, Hebden Bridge, retained his hold on the Suffolk trophy with a three-strong offering of 46kg lambs that each made £98 when selling to Robert Wade, of Cononley, on behalf of newly opened New Laithe Farm Shop in nearby Cross Hills. Mr Wade also acquired the first prize Limousin heifer from John Stockdale, Burnsall, for the shop, which is run by Ian Hall.

The first prize pen of 45kg Dalesbred lambs from Trevor Stoney, Pateley Bridge, also found their way to a new butchers shop when sold for £95 each to the aptly named Dalesbred Butchers, of High Bentham.


Pictured with the Skipton Christmas champion pigs are exhibitor Kelly Armitage and buyer Mark Paige, of Dalesbred Butchers, Bentham.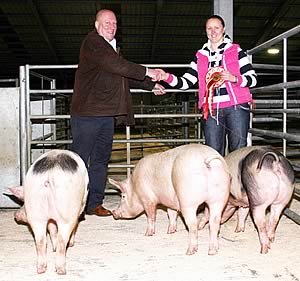 Run by partners Mark Paige and Nathan Brown, who also raises stock for the shop on his own farm at Littledale, Lancaster, Dalesbred butchers bought four pens of Dalesbred lambs for their new business, along with the champion pen of 86kg Pietrain-cross pigs, all gilts, from Kelly Armitage, of James Garth & Son, Keasden, for £151 per head (176p/kg).

The reserve champion pen of 85kg Duroc pigs from James and Deborah Ogden, of Owlet Hall Farm, Austwick, sold for £111 each (131p/kg) to West Yorkshire butcher Mark Spauls, who has shops in Burley-in-Wharfedale and Cottingley.

Spauls Butchers also purchased the second prize pen of 45kg Charollais lambs from Anthony Thompson, Foulridge, for £95 a head, along with a brace of prime heifers. Mr Thompson also presented the first prize 39kg Charollais lambs pen, another acquisition at £120 apiece by West Yorkshire butcher Richard Binns.

Cross Meats, of Bacup, bought the first prize pen of Mule lambs from Kevin Wilson, Blubberhouses, for £76 each.

Bradford butcher John Summers purchased the 2nd and 3rd prize Beltex-cross-Texel prime lamb pens for his Druid Street, Clayton, shop – the 37kg runners-up from Ian Lancaster, Clitheroe, at £125 per head, and the third prize 38kg trio from Martin and Val Brown for £130 each.
Mr Summers also obtained a British Blue heifer from his Clayton-based farming brother Phil Summers, who successfully sold six beef cattle on the day.

Lancashire buyers were also prominent, with Robinson Bros Butchers, of Chipping, sourcing quality stock, among them prime lambs to a high of £94 a head from Ellis Bros, of Addingham Moorside.

Alpes the Burchers, of Clitheroe, also bought a 450kg Limousin heifer from William Timms for £990 (244.5p/kg).

The Slowen farming family from Squirrel Lodge, Howden, Selby, sold a Limousin-cross heifer for £1,460 (219.5p/kg), (who to?) while their first prize any other breeds class winner, a 610kg Bazadaise-bullock, also winner of its classes at both Countryside Live in Harrogate and Stafford Winter Fair this year, was another Keelham Hall Farm Shop acquisition at £1,342 (220p/kg).

The same animal also won the young handlers class for 14-year-old Hannah Slowen, whose 20-year-old brother Thomas is in charge of the family's farming interests.

On the day, bullocks averaged 218.52p/kg and heifers 215.14p/kg, Lowland lambs averaged £106.41 (247.5p/kg) and hill lambs £67.53 (151p/kg).

Swires Present Cream of Christmas Dairy Crop at Skipton


Picston Shottle Daughter the Pick at Craven Dairy Auction


New Pork Pie Contest to be Launched at Skipton Christmas Prime Stock Shows