New Pork Pie Contest to be Launched at Skipton Christmas Prime Stock Shows 2009-11-09
Craven Cattle Marts is to stage the inaugural 'Great Northern Pork Pie Fest.'
Pictured with the 2008 Skipton prime lamb champions are, standing, from left, CCM chairman Michael McKenzie, buyer Paul Watson, Hellifield, and exhibitor James Garth. Front, Robert Garth, Kelly Armitage and Simon Garth.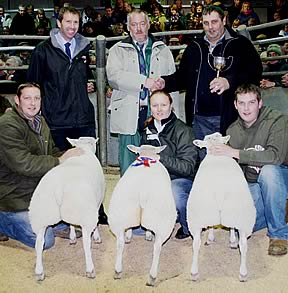 The first-ever competition, which will run alongside the high profile annual Christmas prime stock shows and sales at Skipton Auction Mart, on Sunday, November 29, is open to retail butchers, farm shops and bakers who make pies on their own premises.

Known as The Craven Lingfield Show, it is the region's premier event for butchers looking to source quality, locally reared prime beef and lamb for Christmas.

The Great Northern Pork Pie Fest is being staged for the first time to create additional interest and involvement among the region's meat men and women.

The are two classes – traditional pork pie and Christmas stand pie – with cash prizes, rosettes and certificates for 1st, 2nd and 3rd in each class. An overall supreme champion will emerge, the winner to receive £50 and the reserve champion £20.

There are also special £30 prizes for the best pork pie from both Yorkshire and Lancashire, as organisers seek to foster cross-border competition and friendly Roses rivalry!

The entries – the requirement is for four pork pies and two stand pies - will be judged by a panel of pie experts and aficionados, with the supreme championship adjudicated by two master judges, one of whom is Mike Ward, of Stable Butchers, Keighley, president of the National Federation of Meat and Food Traders.

Organisers are also hoping to secure the services of a celebrity judge for the competition, which is being sponsored by Skipton-based Moule Media and local farmer John Turner, of Draughton.

In addition, all entrants are being asked to bring along an additional four pork pies and one stand pie for a charity sale, with all proceeds in aid of Manorlands, the Sue Ryder hospice at Oxenhope.

There is a £5 per class entry fee and each contestant will receive a free Christmas supper. Entries can be telephoned to the Skipton Auction Mart office on 01756 792375, text 07747 780481, or email jeremy@ccmauctions.com

Skipton's annual Christmas prime stock shows were staged on a Sunday for the first time last year, as the mart sought to replicate the atmosphere and sense of occasion of the former Smithfield Christmas Fatstock Show in London.

It was a tremendous success, with over 1,000 people attending. The supreme beef championship from William Timms, Goole, sold for £2,912 (£5.30/kg) to Ross Greenwood, Carleton, while the prime lamb champions from James Garth & Son, Keasden, sold for £580 each – by far a mart record price - to Paul Watson, Hellifield, buying on behalf of Welsh Country Foods.

Organisers are keen to build on the appeal and impact of the fixture at this year's renewal. There is again a ten-strong line-up of butchers' classes in both the cattle and sheep sections.

Skipton Auction Mart's general manager Jeremy Eaton explained: "As well as catering for our farmer customers from a wide area, the 2008 event proved an excellent showcase to more effectively promote retail interest in prime stock among customers from the regional meat trade, also allowing them to meet farmers in person.

"There was lively trading last year, with exceptional prices achieved for the individual cattle and lamb champions and the main prize winners, as butcher buyers secured the pick of the region's prime beef and lamb for their customers' Christmas tables.

"Both vendors and purchasers alike benefit from the publicity the show generates, with butcher buyers in particular reporting improved Christmas trading levels."

During the afternoon, Craven Cattle Marts will also announce its 2009 Stock Person of the Year. The new annual award was introduced for the first time last year to recognise the contribution of regular vendors at Skipton Auction Mart – and honour a champion among them. Points are awarded at livestock shows throughout the year.

The inaugural winner and defending champion is Jimmy Baines, who has farms in both Gisburn and Trawden. There are also awards for the most points gained in dairy cattle, store cattle, prime and breeding sheep shows. Silsden-based West Riding Toyota is again the main sponsor, with all mainline sponsors of Skipton livestock shows throughout the year also contributing to the awards.

Skipton Hailed as UK's Top Working Dogs Sale Venue


Robinson Bros Champions on First Skipton Appearance


New Year's Day Baby Comes of Age at Skipton Suckled Calves Show