Swires Present Cream of Christmas Dairy Crop at Skipton
2009-11-25
The festive season arrived early for father-and-son dairy farmers Malcolm and Robert Swires, of Haverah Park, Beckwithshaw, when they presented the cream of the show crop at the Christmas Craven Dairy Auction at Skipton Auction Mart. (Mon, Nov 23)
The Craven Dairy Auction Christmas champion, left, and reserve champion, are pictured in the Skipton ring, with, from left, Tony Allanson, of Farmers & Mercantile, Phillip Rowson, of main sponsor PV Dobson & Son, Robert Swires, exhibitor of the champion, Thomas and Libby Simpson, who were responsible for the reserve champion, and Keith Colley, BOCM Pauls.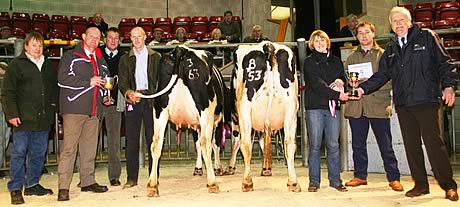 The Swires, multiple winners of the Craven Dairy Auction championship, bagged their latest success with a home-bred newly calven Holstein Friesian heifer by their stock bull Myersdale Principal, acquired from fellow North Yorkshire dairy farmer Geoff Spence, of Brompton-on-Swale.

Giving 30 litres, the title-winner, recipient of both the CCM Trophy and BOCM Pauls Trophy, then went on to secure the show's top price of £2,450 when acquired by judge Robin Boothman, of Fence, Burnley, who received a £60 cash bonus as buyer of the champion from Boroughbridge-based Farmers & Mercantile.

It proved a family affair when the reserve championship fell to the first prize newly calven cow from Thomas and Libby Simpson, of Red House Farm, Ripon – Libby is Robert Swires' sister.

The Simpsons, champions at last year's Christmas Craven Dairy Auction, saw their 46-litre second calver, by the Genus sire Picston Schubert, go on to make £2,220 when joining another Red Rose buyer, T & M Green, of Wigan.

However, it was the second prize newly calven cow, also from Malcolm and Robert Swires, that achieved top price in class at £2,240 when sold to C & JR Terry, Fountains, Ripon. For good measure, the Swires also presented the third prize newly calven heifer, knocked down to yet another Lancashire purchaser, Geoff Blezard, of Ribchester, for £2,120.

Mr Blezard, a regular buyer of Skipton milkers, also had a successuful £2,280 bid for the second prize newly calven heifer from Wharfedale's David Lawson, of A Lawson & Son, Arthington, champion at the opening November Craven Dairy Auction.

There was a clean sweep of prizes in the in-calf heifers class by three of a ten-strong pedigree consignment from Bishop Burton College Farm, near Beverley. The best of them - recipient of the Frank Wade Perpetual Trophy, presented by his grandson Nathan Wade, of Bradley - was a daughter of Final Cut, out of a 10,000-litre cow, which sold locally for £1,600 to Jonathan Caygill, Rylstone.

Mr Caygill also acquired the second prize winner at £1,160, while the third in class joined David Shuttleworth, Gagrave, for £1,280. Bishop Burton College Farm also sold 20 maiden heifers, as it disposed of surplus stock at Skipton, with students present to gain experience of a working auction mart as they prepare for a career in agriculture.

South Yorkshire vendors JJ & JD Booth, of Penistone, Sheffield, achieved a 1,2,3 in the maiden heifers section. All prize winners were bought by PJ & P Mason, Lancaster, selling to a high of £1,450.

With 89 dairy cattle forward, the highest entry for some time, newly calven heifers averaged £1,772, newly calven cows £1,723, in-calf heifers £1,190 and maiden heifers £909. The Christmas show was sponsored by Skipton-based PV Dobson & Son, represented by Phillip Rowson.

All eyes now turn to this Sunday's (Nov 29) high profile annual Christmas prime stock shows and sales at Skipton, the region's premier event for butchers looking to source quality, locally reared prime beef and lamb for Christmas.

The day will also feature the inaugural 'Great Northern Pork Pie Fest,' a new pork pie-making competition open to retail butchers, farm shops and bakers who make pies on their own premises. Entries for the traditional and stand pie classes are coming in nicely and will be accepted up to the start of the contest.

Picston Shottle Daughter the Pick at Craven Dairy Auction


New Pork Pie Contest to be Launched at Skipton Christmas Prime Stock Shows


Skipton Hailed as UK's Top Working Dogs Sale Venue