2009-12-08
Be aware of early rust infections now appearing in winter wheat crops, growers are being warned.
Early yellow rust in wheat crops this year may not be a concern just yet, says Syngenta technical field manager Chris Rowsell, but with its ability to flare up rapidly, it will be important for growers to be on their guard.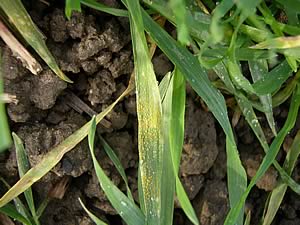 According to Syngenta field technical manager Chris Rowsell, yellow rust infections have started to become clearly visible during routine monitoring at two of the company's variety input trials – with sightings as far apart as Yorkshire and Kent. Separately, yellow rust has also been reported from Lincolnshire up to Northumberland, he notes.

"To find rust so early is unusual," says Mr Rowsell. "The last time we found it so easily at this time of year was in 2007, just before the epidemic year of 2008.

"More significantly, with recent reports of a new race of yellow rust capable of affecting some of the main winter wheat varieties, it will be important over coming months that growers remain on their guard.

"Admittedly it can be difficult to tell whether infections are yellow or brown rust at this time of year, but with yellow rust having reduced yield up to 4.5 t/ha in trials, and brown rust up to 4 t/ha, both are clearly very important diseases," he adds.

In the case of the Kent trial, Mr Rowsell says the site was only planted in late September / early October, so wasn't particularly early-drilled, yet it was still possible to find rust across a number of different varieties.

"Where rust levels look likely to threaten yield, it will be important to treat using a fungicide with good rust activity. Cyproconazole – which is contained in the fungicide Cherokee – is an excellent example. Ordinarily treatments might be applied in February or March, but if levels look threatening before this it may be necessary to consider treating earlier," he maintains.

Independent, Kent-based agronomist Roger Bryan has also been finding rust infections fairly easily in wheat crops.

He too says it can be difficult to tell yellow rust and brown rust apart at this stage of the season, and doesn't normally get concerned about rusts until February or March. But it is more of a concern if it is yellow rust, he admits, because winter frosts have less effect at bringing it under control.

Kylie Scoops Coveted Barrie Orme Award


Advanced Oilseeds Need Careful Management to Safeguard Yield


£1M Cash Boost for Northumberland Grain Co-Operative Store