2009-11-09
Harvest festivals may be coming to a close but for a grain storage facility in Northumberland the celebrations are just beginning after receiving just over £1m of EU funding.
English Food and Farming Partnership's Regional Manager Doug Gray, Chief Executive of Coastal Grains Terence Pardoe, One North East's Jim Anderson and chair of Coastal Grains Gary Grahamslaw.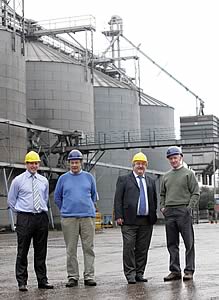 Coastal Grains Ltd in Belford - the second largest grain co-operative store in the UK – has received the funding via the Rural Development Programme for England (RDPE) with the assistance of the English Food & Farming Partnership (EFFP).
The money will help ensure that they not only stay at the forefront of the grain processing industry but vastly improve the service that it offers its members and the food industry, through more efficient and effective processing, adding value and creating access to new markets for individual farm businesses.
The money will allow Coastal Grains to install new elevators and dryers enabling them to double the grain processed from 120 tonnes to 240 tonnes per hour. The plant will also have a new co-ordination facility with the latest mycotoxin testing equipment and once all the improvements are complete, they will be amongst the most sophisticated facilities in the country. Initially the investment will create one further full time job.
Grain co-operatives offer a number of benefits to farmers and increasingly the food industry wishes to buy from modern, central stores trusting the management and traceability of the grain from farm to food processor. Stores have to be of the highest quality to allow the drying, conditioning and processing of grain and be large enough to ensure continuity of supply as well as providing economies of scale to reduce the cost per tonne of this processing.
Chief Executive at Coastal Grains, Terence Pardoe, said: "We have always been a forward thinking company and are extremely pleased to have obtained this funding. The planned improvements will enable us to take the next step to ensuring that our members are able to enter into higher value contracts and continue to compete at all levels.
"Here at Coastal Grains we provide the facility to segregate up to 60 grades of grain, dried and sorted to specific consumer standards. We will now be able to process this grain even more quickly, which will improve product quality and segregate still further if this is required in the future."
Founded in 1982, Coastal Grains has 95 members stretching from the Borders to Hexham in Northumberland and Chester-le-Street in County Durham. It is a non profit making organisation processing around 100,000 tonnes of grain for its members each year so individual farmers do not have to invest in sophisticated but expensive testing, drying and storage equipment.
EFFP is a specialist agri-food consultancy which aims to work with the whole supply chain from producer to end user for the benefit of all involved. They work with organisations to help them access grants and move their business forward and its collaborative and advisory services were essential in helping gain funding from the RDPE programme which is managed by One North East.
Adrian Sherwood, RDPE Manager at One North East, said: "This funding will help Coastal Grains to achieve its aims to boast one of the country's best grain facilities, supplying high quality grain both regionally and nationally.
"By improving their facilities, the business will remain at the top of their game while improving their own margins and their members' profits and consequently produce the highest quality foods, delivering benefits across the whole of the region."
This funding, will strengthen the services and benefits which Coastal Grains offers to its members. The period that crops are on the farms will be greatly reduced, more types of grain will be able to be treated more quickly which will result in better quality grain and improved segregation. There will be improved financial returns for the members in the price received for grain that is stored and marketed through Coastal Grains, improved gross margins and cost savings. Most immediately this will come from the ability to increase sales of malting barley to regional maltsters and milling wheat to regional millers.
Chair of Coastal Grains, Gary Grahamslaw who farms at Gallow Moor Farm near Alnwick added: "It is very good news and will allow us to improve our processing facility, and the service we provide to members. We are in an increasingly competitive market and this funding will ensure that here in North Northumberland we meet the demands of today's grain buyers and segregate the various qualities to buyers exacting standards."
The Rural Development Programme for England 2007-2013 is jointly funded by Defra and the European Union, with the aim of delivering targeted support to rural businesses and communities. It is managed in North East England by One North East, Natural England and the Forestry Commission.
The RDPE investment being managed by One North East combines larger projects to help many businesses in different sectors of the rural economy - including bioenergy and land-based skills, and projects adding value to agricultural and forestry products - with smaller investments to help individual businesses to start-up, grow or diversify, and support to develop more sustainable rural communities.
RDPE Business Support is part of Solutions for Business, the Government's package of publicly funded support products offering help to companies to start, grow and succeed. Solutions for Business makes it easier for businesses to get the advice and assistance that they need.

One North East Goes With The Grain


FAO Targets Land Tenure


Another Bumper Year for United Oilseeds