Forts Storm to Top Price Success at Skipton Lleyn Show
2009-10-06
A yearling ram from West Yorkshire husband-and-wife breeders Graham and Mandy Fort, of Brighton House Farm, Whitley Head, Steeton, Keighley, achieved the day's top price of 1,300 guineas at the Lleyn Sheep Society's annual pedigree show and sale at Skipton Auction Mart. (Thus, Oct 1)
Graham Fort with his top-priced Lleyn yearling ram at Skipton, joined by judge Sir John Bell.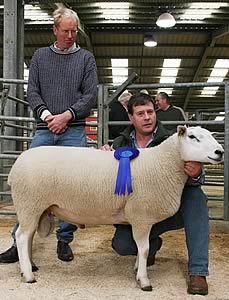 Supreme champions with another yearling ram at last year's Skipton fixture, the Forts – Graham is chairman of the North & East England Lleyn Sheep Breeders Club – had to settle for second prize in class at this year's renewal.

However, their home-bred ram (No 089892) by a Flock 873 sire from Dai and Cynthia Morris, of Yr Ostrey, St. Clears, Carmarthen - Dai is a past Lleyn Sheep Society chairman - more than made amends when knocked down for the top call, which was 400gns more than the 2008 top price, to Calderdale purchaser Harry Taylor, of Blackshaw, Hebden Bridge. A Society member, Mr Taylor has kept Lleyn for 13 years and runs a flock of 50 ewes.

The Forts also sold another yearling ram locally for 780gns to R & A Jennings, Cowling. It capped a successful year for the couple – they also landed the 2009 Ruthin championship with another home-bred ram.



Jim Goldie with his Skipton Lleyn yearling ram champion.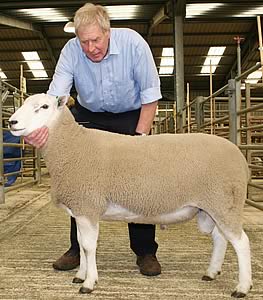 Scottish breeders had a particularly successful day at Skipton. The yearling ram champion (No 081012) came from father-and-son Jim and Hamish Goldie, of South Bower Houses, Ruthwell, Dumfries. By a Flock 350 sire bred in Wales, traditional home of the Lleyn, by WJ & DJ Williams, Nefyn, the class victor sold for 920 guineas to MJA & SIJ Shields, Plum Tree Farm, Timble, Otley.

The Goldies, who currently have 400 breeding females, have also had a productive year heading the selling prices at Ruthin with a yearling ram at 2,000gns.

Back at Skipton, the first prize pen of ewe lambs from Farmstock Genetics, based high on the Scottish Borders at Over Whitlaw, Selkirk, went on to secure the overall show championship and The Green Farm Health Cup, courtesy of judge Sir John Bell, of Ingleby Cross, Northallerton.

A partnership between Bob Hudson and Bryan Walling, Farmstock Genetics has been producing pure-bred Lleyn for 12 years. The duo this year exhibited the first prize ewe lambs at both Carlisle and Stirling.

The 1st prize pen of yearling ewes and reserve show champions were shown by another well-known Scottish breeder, David Alexander, of Galston, Ayrshire, his five-strong pen knocked down for £152 per head to Andrew Hodsman, of Menethorpe, Malton.

Mr Alexander had a profitable day when selling a total of 56 yearling ewes at an average of £145.91 each. Top price in class at £160 a head fell to Jim and Hamish Goldie, their charges returning to near the point of origin when acquired by Nigel Fortnam, of Hardgate, Dumfries.

Selling prices of the 710 sheep forward showed a market improvement on last year, with rams averaging £522.98, yearlings £119.76, ewes £87.20 and ewe lambs £79.80.

Results:
Aged ewes – 1 William Williams, Nefyn. Shearling ewes – 1 David Alexander, Galston, 2 Graham Fort, Steeton, 3 Simon Kavanagh, Eldwick. Ewe lambs – 1 Farmstock Genetics, Over Whitlaw, 2 Frank Dinsdale, Musgrave, 3 William Williams. Shearling ram – 1 Jim Goldie, Ruthwell 2 Graham Fort, 3 Simon Kavanagh.

Crisp Price-Topper at Craven Dairy Auction


Towell Texels Top Prices at Skipton


Skipton Charollais Sheep Show and Sale