Crisp Price-Topper at Craven Dairy Auction
2009-09-29
Eight newly calven Holstein Friesian milkers, six cows among them, made £2,000 or more at the second September Craven Dairy Auction at Skipton Auction Mart. (Mon, Sept 28)
Alan Simpson, right, looks over his debut Craven Dairy Auction champion, joined by, from left, Steve Hall, Farmers & Mercantile, Ian Langhan and Steve Braithwaite, BOCM Pauls, and judge Aubrey Greenhalgh.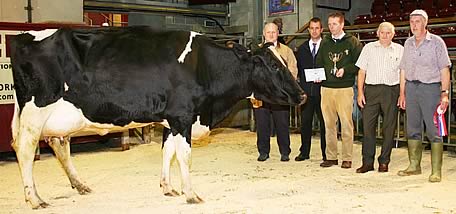 Top call in show at £2,380 fell to the second prize newly calven heifer from local exhibitor Robert Crisp, of Calton, acquired by regular Skipton purchaser Geoff Bleazard, Ribchester.

Mr Crisp, who is selling off his Dales dairy herd as he winds down his milking operation, also sent out the second prize newly calven cow, which remained in the area when joining Cowling dairy farmer Andrew Ogden for £2,120.

Craven Dairy Auction champion for the first time was Alan Simpson, of RH & HE Simpson, Oulston, Easingwold, whose first prize newly calven commercial heifer was awarded top honours by judge Aubrey Greenhalgh, of Elswick, Preston.

Mr Simpson, who has been milking virtually all his life, is also in the process of disposing of his dairy herd. "We have no family in the job, so have decided to concentrate on beef and sheep in the future," he explained.

The victor, a home-bred second calver giving almost eight gallons, sold for £2,200 to G Abbott & Sons, Dacre, Harrogate, who also picked up a £60 cash bonus as buyer of the champion from Farmers & Mercantile Insurance.

Reserve champion was the first prize newly calven heifer from Peter Paul, of M Baul & Partners, Bishop Thornton, Harrogate. Awarded the BOCM Pauls Dairy Cup, the pedigree runner-up, by the Genus bull, Sheva, and giving 32kg, was knocked down for £1,880 to Cheshire buyers J & D Clowes, Macclesfield.

The same purchasers also paid £2,000 for the third prize newly calven cow from Malcolm and Robert Swires, Haverah Park, Beckwithshaw, Harrogate, while Ripon-based Thomas and Elizabeth Simpson sold a newly calven cow for £2,200 to first-time Skipton buyers T & M Green, Wigan.

The top-priced maiden heifer at £760 was exhibited by Johnny Metcalfe, Linton, acquired by R & K Douglas, Whalley, with John Hitchen, Ludendenfoot, achieving 1st and 3rd in class.

With 48 cattle forward, newly calven heifers averaged £1,782 and newly calven cows £1,871. Maiden heifers to 14/15 months averaged £740, and 6-9 months £432.

Towell Texels Top Prices at Skipton


Skipton Charollais Sheep Show and Sale


Skipton Beltex Sheep Show and Sale