Vintage Tractor Event Attracts McCormick Support
2009-10-13
McCormick tractor distributor AgriArgo UK Ltd has joined other sponsors in supporting one of Britain's best agricultural heritage events – the Newark Vintage Tractor & Heritage Show.
Modern tractors with a proud heritage – the McCormick XTX165.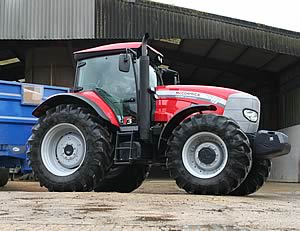 The event, being held on 7th and 8th November at the Newark Showground in Nottinghamshire, attracts enthusiasts and collectors from all over the UK and overseas.
"With McCormick and IH being adopted as the theme for this year's event, it gives us an opportunity to actively support a celebration of an important part of our heritage," says Paul Wade of AgriArgo UK. "The McCormick name in particular has a very long history – and is still going strong today."
The first UK-built tractors to carry the McCormick name were produced in Doncaster in 1949. After a series of mergers and acquisitions, they came under the ownership of the ARGO Group, one of the world's largest agricultural equipment manufacturers.
Production was moved to Italy in 2007 to take advantage of economies of scale and group resources. It is there that today's McCormick range, which still has direct links to the Doncaster line, is assembled by the Argo Tractors division of the Argo Group.
"Our CX, MC and MTX tractors are direct descendants of an impressive line of successful tractors built in northern England factories," notes Paul Wade. "The same can be said for the high horsepower XTX and TTX design, which was originally conceived and developed by the McCormick team at Doncaster."
With new and improved features evident in the specification of these machines, the McCormick range is clearly well-equipped to meet the needs of today's farming industry.
Most recently, the 'workhorse' CX models from 80-102hp received a new cab design with improved interior, larger doors and a bigger glass area to give better all-round visibility.
The MTX series of 117-133hp six-cylinder tractors also have a new four-post cab design, plus exterior panels that give the machine a modern style while also improving service access.
The 145hp to 183hp XTX and 170hp to 225hp TTX, meanwhile, feature the unique XtraSpeed transmission with no fewer than eight powershift speeds in each of four ranges – a set-up that gives the driver easy access to the best speeds for field and road work at the push of a button.
Says Paul Wade: "We're very conscious and very proud of the heritage behind these modern tractors – and very pleased to be able to support the Newark event this year."

Case IH at Agritechnica 2009


Kuhn Primor 5570 Feeder / Bedder Offers Improved Efficiency


Scotgrass 2010 Returns to Crichton