Scotgrass 2010 Returns to Crichton
2009-10-02
Once again SAC is to host the Scotgrass specialist event at Acrehead Farm, Dumfries.
Scotgrass 2007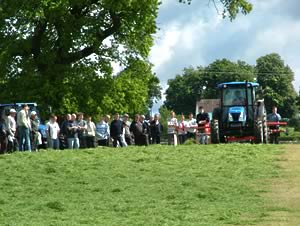 Scotgrass, organised by the Agricultural Engineers Association and sponsored by Ecosyl Products, previously visited the Dairy Research Unit at Crichton in 2007. The return has been welcomed by Dr. Dave Roberts, Head of SAC's Dairy Research and Chairman of the British Grassland Society.
"Scotgrass is an important event for event for grassland farmers everywhere and the south west in particular. In the challenging years to come the proper utilisation of grass and its good management will become even more important. Scotgrass is forum for ideas."
AEA Director General, Roger Lane-Nott, said: "After the huge success of the 2007 event we were keen to make a quick return to Crichton Royal and are delighted that SAC and farms manager Hugh McClymont have agreed to host Scotgrass 2010. In addition to its excellent facilities for working demonstrations, the venue is ideally placed for farmers and contractors from Scotland, England and Northern Ireland."
Event organisers claim Scotgrass 2010 will be the biggest yet. In addition to working demonstrations of grass conservation machinery, products and services there will be at least two fields dedicated to slurry application. They will feature systems that minimise GHG emissions and maximise fertiliser utilisation.

New Versatile Claas Arion 400 Tractor Range


New GreenStar 1800 display from John Deere


Kuhn Strengthens Local Product Support