Case IH at Agritechnica 2009
2009-10-09
"360 degree innovations for efficient agriculture" is the title heading Case IH activities at the Agritechnica trade fair this year. Case IH will focus on new tractor models, including the latest models in the Maxxum and Puma series and two new Puma CVX models with continuously variable transmissions.
2010 Case IH Maxxum Multicontroller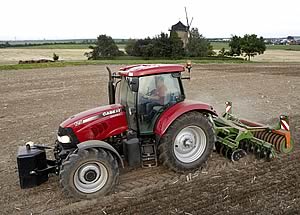 Maxxum now also equipped with Multicontroller
The 2010 Maxxum series has been extended with six high-end models: the Maxxum Multicontroller range. The new Maxxum Multicontroller series consists of six models with four-cylinder or six-cylinder engines with rated power outputs from 112 hp to 141 hp. The modern common rail engines are equipped with electronic fuel injection and intelligent power management, developing up to an additional 26 hp resulting in 20 per cent more power available for road transport or hydraulic and PTO work.
The latest generation of Multicontroller from Case IH, as used in the Puma CVX, places all the tractor's main functions at the driver's right hand for ease, safety and fatigue-free operation.
Puma Upgrades
The "entry-level" Puma models, comprising the 140 and 155 have received major upgrades.
2010 Case IH Puma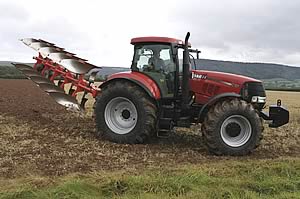 The latest generation Multicontroller armrest is now standard, allowing the driver to control all key functions with a single hand. Integrated into the seat, the Multicontroller armrest remains static in relation to the driver with the option of electrical adjustment for driver-specific positioning.
More transmission options are now available on the 140 and 155, with the Semi-Powershift 18x6 transmission for 40 kph and Semi-Powershift 19x6 ECO for 40 kph or 50 kph. All transmission versions are available with the creeper gear option.
The outer appearance has been further enhanced by the new engine hood with Case IH shark-fin grill.
Innovative ABS concept for enhanced safety
Case IH continues its innovative improvement programme with a newly-developed ABS system. Unlike conventional systems, the new anti-lock braking system uses force from compressed air that is converted into hydraulic force by a pneumatic/hydraulic converter, which means the system can use the existing hydraulic brakes installed on modern tractors.
The heart of the new system is an ABS-Ecu control unit that compares the data from the speed sensors on the wheels and makes millisecond-adjustments in the air pressure. The system checks for excess slip, one-sided skidding, intermittent braking and single wheel acceleration to give a confident and controlled braking effect in all conditions as well as reducing wear on the brake discs.
New headers add to Axial-Flow combines increase capacity
The high performance Axial-Flow 20 series benefit from a larger grain tank, with a load capacity of up to 12,330 litres, larger tyres for an outside width of 3.5 metres. The Case IH stand will display a 9120 with the new electrically-adjustable spreader plates on the straw management system. Offering improved distribution of chopped straw and even spread control in windy conditions, this dealer-installed accessory will be available from mid-2010.
The new 3050 VariCut headers extend Case IH's range, featuring increased working widths of 7.6 metres, 9.15 metres and 10.7 metres, and new easy-to-use connections. The header's improved reel guide system allows the reel to be lowered close to the header knives enabling flattened crop to be reliably fed into the header without losses.
For maize, larger corn headers with twelve rows and a rigid frame will be available for the first time. These feature the proven, high performance cob stripping system with individual overload protection on each row. As standard, each row on the corn header is equipped with a chopping rotor that can be switched on and off as needed underneath the stalk rollers. As on smaller headers, these maize headers can be equipped with trackers to greatly reduce driver fatigue when working in high density crops.
Big balers increase protection
Ground and sward protection are essential and Case IH has reduced the soil compaction from its big balers with larger tyres and a new steered tandem axle. The clever bale weighing mechanism has improved accuracy, providing the operator with exact data on the bale weight for job costing and management purposes.
Case IH has developed a larger feed rotor for all round balers to improve the performance and capacity. This increases the throughput achieved by the baler's pickup and chopping/conveyor systems.
Special focus on Advanced Farming Systems
Case IH will have a special focus on its Advanced Farming Systems, the modular precision farming system that use the latest GPS and performance monitoring technology to improve productivity and lower costs.
Many models in 2010 Case IH product range are AFS-ready from the factory allowing its customers to access to this technology easily and cost effectively when they are ready. The demonstration area will detail the wide range of applications available, from straightforward parallel driving systems to the autopilot Accu-Guide system through to applications using GPS-controlled documentation and field-specific control of implements and machinery.
Case IH uses a single-interface to ensure a familiar operation from machine to machine. The newest generation of AFS monitors will be on display, including the new AFS Pro 300 which has been designed to integrate into Case IH tractors' operating system at the most fundamental level.
This monitor allows data to be transferred to a USB memory stick, has touch-screen control and new instrument displays including diesel consumption for the area covered as well as many management and reporting functions. A rear-view video camera can also be connected.
A new internet-based service portal for Case IH AFS users will be launched during Agritechnica. On this website farmers can find a range of online services and add-on functions for AFS applications, including support and training options, special mapping programs and Google Maps support for extended representation of AFS documentation.

Kuhn Primor 5570 Feeder / Bedder Offers Improved Efficiency


Scotgrass 2010 Returns to Crichton


New Versatile Claas Arion 400 Tractor Range