Mutton Renaissance Open Event
2009-10-13
"It's so tasty! It's not what I expected at all!" was the typical reaction from guests, including a number of catering college students attending the second of this season's Mutton Renaissance events held recently at Northumbrian Quality Meats near Hexham, Northumberland.
Hosted by farmer and founder of Northumbrian Quality Meats, Steve Ramshaw, the event, held on his 750 acre farm, was designed to develop the growing popularity of quality Renaissance Mutton and to strengthen the link between producers, butchers and chefs.
"Seasonality is so important," he said "and at this time of year our mutton is at its best. We have around 400 Scottish Blackface ewes, a hardy breed renowned for its sweet flavour and tenderness. The animals have a rich and varied diet which enhances the flavour, and as hill-bred animals the meat tends to be leaner."
Award winning chef from the region, Douglas Jordan, also spoke passionately about just how versatile mutton can be. He said: "It really is a wonderful ingredient and as such it deserves a place on the menu. As chefs you can do so much with it, but it is important to make sure that the animal has been bred and hung properly. Make sure you ask your supplier lots of questions to ensure that you are getting a quality product with just the right amount of fat covering."
EBLEX Regional Manager (North East Region), Steve Powdrill, added: "It's important to have a specification for mutton to ensure consistency. To meet the Mutton Renaissance standard, sheep must be over two years old and the animals must have a forage-based diet (for example, grass, heather and root crops). Sheep should also have a given amount of fat cover, and be matured (for example by hanging) for at least two weeks. Mutton producers must be able to provide full traceability records showing where an animal is reared, its breed and its age at slaughter."
Chairman of the Mutton Renaissance Club, John Thorley, added: "Mutton used to be seen as nothing more than a cheap, older meat. But in recent years that's changed because chefs such as Douglas are demanding excellent quality meat that is properly prepared and then treating it properly when cooking it."
Director of the Academy of Culinary Arts, Sara Jayne Stanes, was in agreement. She said: "I'm delighted to see so many trainee chefs here today. As a future chef you will have learnt that it is vitally important to have a close working relationship with your suppliers so that you can feel confident in the quality of ingredients they provide you with. It's particularly relevant where meat is concerned as there are so many variables involved in rearing and producing livestock to a high standard.
"So not only have you had the opportunity to experience for yourselves what a wonderful ingredient Renaissance Mutton is, but hopefully you will also now have a clearer understanding of just how much care and hard work goes into producing the finest quality meat."
Mutton display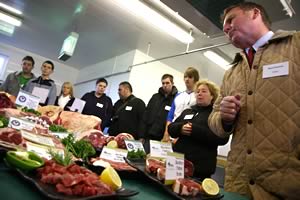 Following the presentations and farm tour, guests were treated to a delicious mutton lunch featuring Mutton Broth, Navarin of Mutton and Haricot Mutton.
A free brochure, 'A Taste for Marketing Mutton', has been produced to provide producers, abattoirs, butchers and chefs further information on producing, processing and cooking Renaissance Mutton.
The Mutton Renaissance Club is co-ordinated by the National Sheep Association in conjunction with the Academy of Culinary Arts. Existing members of either organisation can join the Club for free while others pay just £50 per year.
To join the club, or for a copy of the brochure 'A Taste for Marketing Mutton' contact Mags Barrow on 01684 899255 or email magsbarrow@pansa.org.uk.

Agriculture to 2050 – The Challenges Ahead


2050: Increased Investment in Agricultural Research Essential


Kathryn Potts Appointed NEEFM Manager